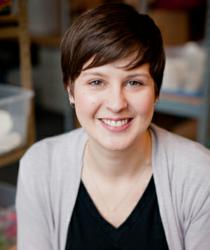 Portland is a great place for young people to achieve their entrepreneurial goals, and I am grateful to the many organizations who have supported my growth as a small business owner.
(PRWEB) May 30, 2013
During a luncheon at the Portland Art Museum on May 20, 2013, GladRags owner Tracy Puhl was awarded Young Entrepreneur of the Year by the Portland Small Business Administration. A total of eight small businesses from Oregon and SW Washington were honored during the event, as well as two champions of small business and 11 lending institutions.
The Small Business Week event included comments by Oregon Governor John Kitzhaber, SBA Regional Administrator Calvin Goings, SBA Regional Advocate Jennifer Clark, and SBA Acting District Director Robert DuCote.
"Right here in Oregon we have over 335,000 small businesses that open their doors daily – providing employment, high quality products, and services to customers both here and in foreign countries," said DuCote. "Our entrepreneurs and small business owners... are one of our state's greatest strengths and it's our privilege to recognize some of them here today.
Puhl, a Portland native and 2009 graduate of Portland State University, received the award for Young Entrepreneur of the Year for her work with GladRags. Under Puhl's leadership, in 2012 GladRags launched a new ecommerce website, increased distributor sales, and became certified as a Benefit Corporation.
"I am honored to be named the Young Entrepreneur of the Year by my hometown," said Puhl. "Portland is a great place for young people to achieve their entrepreneurial goals, and I am grateful to the many organizations who have supported my growth as a small business owner, including the Portland Business Outreach Program, Women Entrepreneurs of Oregon, and the Small Business Administration."
Founded in 1993, GladRags has been a leader in environmentally-friendly products with a message of female empowerment for 20 years. GladRags sells reusable menstrual products, including washable all-cotton pads and medical-grade silicone menstrual cups, online and in stores nationwide. http://www.gladrags.com