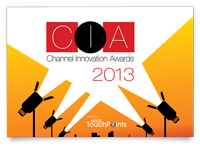 Channel Innovation Award honor companies that use new technologies and innovative strategies to satisfy customers.
Hasbrouck Heights, NJ (PRWEB) May 28, 2013
Retail TouchPoints (RTP), the industry's go-to source for customer engagement strategies, today announced the third annual Channel Innovation Awards, honoring retailers achieving cross-channel success in today's challenging retail environment.
This year's winners run the gamut of industry segments, from phones and shoes to books and specialty apparel. They are both U.S. and internationally-based retail companies. Most of the winners are selling their products via both brick-and-mortar and e-Commerce web sites, in addition to mobile web sites and other channels.
"This year we received a wide variety of nominations, from very large retailers to smaller specialty companies, who are using new technologies and innovative strategies to satisfy customers," noted Debbie Hauss, Editor-in-Chief of Retail TouchPoints. "The winners continue to focus on social media and mobile technology, but their overall efforts to make every channel stand out highlight them as Channel Innovation Award winners."
2013 award winners have demonstrated achievements in some of all of the following areas:
*Sales gains, particularly within emerging channels
*Meeting consumer demands with convenient cross-channel shopping opportunities
*Cross-channel marketing
*Customer recognition, including social media feedback
*Technology innovations
The 2013 Channel Innovation Award winners are focusing their channel efforts around a variety of strategies, including personalization, social media and mobile technology, but all winners are successfully integrating the benefits of cross-channel marketing and services to their customers, with impressive results.
2013 Retail TouchPoints Channel Innovation Award Winners
PLATINUM: Indigo Books & Music
PLATINUM: Heels.com
GOLD: Famous Footwear
GOLD: Tabcorp
SILVER: Fast Lane Wireless
SILVER: Telenet Mobile
SILVER: SoccerPro.com
SILVER: Verizon Wireless
BRONZE: National Wholesale Liquidators
BRONZE: Title Nine
To view the complete report, please click here.
Retail TouchPoints is an online publishing network for retail executives, with content focused on optimizing the customer experience across all channels. The Retail TouchPoints network is comprised of a weekly newsletter, category-specific blogs, special reports, web seminars, exclusive benchmark research, and a content-rich web site featuring daily news updates and multi-media interviews at http://www.retailtouchpoints.com. The Retail TouchPoints team also interacts with social media communities via Facebook, Twitter and LinkedIn.