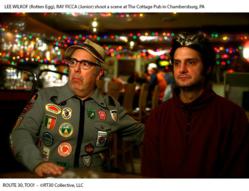 "The final installment of the comedic trilogy promises romance and intrigue." says director John Putch. "A bit of James Bond, mixed with some Twilight Zone, topped off with some old bay seasoning. And thankfully it's not in 3D."
Fayetteville, PA (PRWEB) May 29, 2013
JOHN PUTCH'S 2ND film in the ROUTE 30 TRILOGY, entitled ROUTE 30, TOO! will have a special event screening on July 2nd at 7PM at Totem Pole Playhouse in Fayetteville, PA.
Route 30, Too! has played in over 20 film festivals to date and has won 17 awards, including a few director and best feature awards. The film premiered in Chambersburg, PA in Sept. 2012 and has since played Gettysburg and York, PA to sold out houses.
SPECIAL EVENT AT TOTEM POLE
The Totem Pole will be transformed into a movie theater, bringing back the popular movie night event from seasons past. After the film, JOHN PUTCH and cast members WIL LOVE, RAY FICCA, MISTER ED, ALICIA FUSITING, DAN POOLE and the great LEE WILKOF will be present to participate in a lively audience Q&A session.
DVDs of both films will be on sale at a specially discounted rate and the cast will be available for autographing.
ROUTE 30, THREE!
The 3rd film in this trilogy will be shot this September in the Fayetteville area. "The final installment of the comedic trilogy promises romance and intrigue." says Putch. "A bit of James Bond, mixed with some Twilight Zone, topped off with some old bay seasoning. And thankfully it's not in 3D."
DATES
July 2nd at 7PM, Tickets can be purchased at the theater, on the website or by calling the box office at 888-805-7056 or online at TotemPolePlayhouse.org.
###
For more press info, interviews, please contact John Putch at the email
above to arrange for comments from cast members.
About Totem Pole Playhouse
Nestled in Caledonia State Park about 13 miles west of Gettysburg and 10 miles east of Chambersburg on U.S. 30, Totem Pole Playhouse has become home to an enclave of professional performing artists including Jean Stapleton, Curtis Armstrong, Harry Groener, Henry Strozier, John Ritter, Barbara Feldman and Sandy Dennis. Totem Pole Playhouse opens its 63rd season in May of 2013. For more information about Totem Pole Playhouse, the line-up of productions for the 2013 season, or ticket information, please visit TotemPolePlayhouse.org.