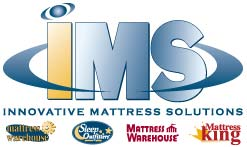 We opened our first store 30 years ago in South Charleston, W. Va. and have since grown to 150 Sleep Outfitters, Mattress King and Mattress Warehouse stores in six states
Charleston, WV (PRWEB) May 29, 2013
Innovative Mattress Solutions announced today it will be giving away 30 beds in 30 weeks to celebrate 30 years in business. To enter the SLEEPstakes, "Like" Sleep Outfitters, Mattress King or Mattress Warehouse on Facebook.
"We've enjoyed 30 great years of providing the communities that we live and do business in with a great night's sleep," said Kim Brown Knopf, CEO, Innovative Mattress Solutions. "Our 30th Anniversary SLEEPstakes is a way of giving back to our customers and communities, and thanking them for the part they've played in our success."
Innovative Mattress Solutions will award 30 queen-sized mattress sets in random drawings each Monday. Mattresses from major manufacturers will be among the many brands offered, including Sealy Posturepedic, Stearns & Foster and Tempur-Pedic.
In addition, Innovative Mattress Solutions has introduced its own line of innerspring, memory and gel foam mattresses called uDream. Developed by Knopf for the company's 30th anniversary, the uDream line is the result of Knopf's 30 years of listening to what customers want and need in a mattress. She's designed the uDream line to be better, more affordable bedding at every price and comfort level.
"We opened our first store 30 years ago in South Charleston, W. Va. and have since grown to 150 Sleep Outfitters, Mattress King and Mattress Warehouse stores in six states," Knopf said. "We're so excited to be celebrating our anniversary and look forward to continuing to expand to serve our clientele across the region."
About Sleep Outfitters, Mattress Warehouse, Mattress King and Innovative Mattress Solutions
The team at Sleep Outfitters, Mattress Warehouse and Mattress King, as part of the parent company Innovative Mattress Solutions based in Winfield, WV, believes a better night's sleep is the foundation of a healthy lifestyle. Their comfort promise helps customers rest easy, knowing they have 120 days to make a change if they're not comfortable sleeping in their new bed.
For sleep tips, lifestyle motivation, and to learn about specials, visit and like Sleep Outfitters, Mattress Warehouse and Mattress King on Facebook and follow Kim Knopf's daughter, Karrie Knopf, at her Pillow Talk Blog. To learn more, visit their website.
Innovative Mattress Solutions operates 150 sleep specialty retail mattress stores in six states, celebrating 30 years in business in 2013.