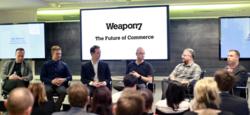 (PRWEB UK) 29 May 2013
The debate looked at the future of commerce and touched on themes such as the experience of shopping, use of mobile devices, location based marketing, new forms of currency and brands providing a personalised service to customers.
The panel was headed up by Adam Graham, CEO of Weapon7 and included guest speakers Nathan Guerra, Head of Industry at Google; John Hogan, Head of Research, eCommerce at Virgin Media; Ian Jindal, eCommerce expert at Internet Retailing; Andrew McCormick, Editorial Director at The Knowledge Engineers; and Andy Farmer, Head of Customer Experience Strategy at Weapon7.
The key points which were raised during the debate included:

The emergence of 'Retailtainment', which is currently being led by toy manufacturers and the reinvention of stores, with digital playing a key part – Andy Farmer
Retail is about desire and stores should adopt their own authentic voice. We have to love our customers again – Ian Jindal
We have become so obsessed with technology that we have lost the knack of anticipating consumer needs – Andy Farmer
The biggest change is we now have a computer in every pocket – Nathan Guerra
We must understand that visitors come to a site for different reasons and we should tailor for different intents – John Hogan
"The biggest thing we are seeing with commerce is the migration to mobile phones," said Nathan Guerra, Head of Industry at Google. "Is currency affecting retail in the UK? No, but globally, currency is affecting retail on a massive scale. We need new ways to transact and in places such as Kenya, the evolution of currency is leading to growth."
Adam Graham, CEO at Weapon7 added: "In this ever-changing and fast moving climate, businesses have to respond and adapt quickly in order to stay at the forefront of commerce advances. The debate last night was a refreshing insight into the future and offered a variety of thought provoking opinions, as well as plenty of practical solutions."
The debate was the first in a series of discussions hosted by Weapon7. For full details about the debate, please visit: http://www.weapon7.com/weapon7s-future-of-commerce-event-4/.