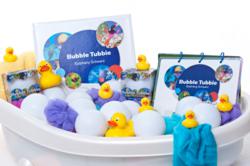 Hop in the Tubbie!
Henderson, Nevada (PRWEB) May 28, 2013
Black Catapult Publishing and Epiphany Schwarz is proud to announce that Bubble Tubbie in the Hardcover Version has won an IPPY Award (Bronze Medal) in the Category: Best Book Marketing at the 2013 IPPY Awards. Out of an estimated 5,240 entries in this year's awards, Bubble Tubbie was among only 382 books receiving a medal and the national recognition that comes with this prestigious award. The medal ceremony for the IPPY Awards will take place during Book Expo America, (BEA), in New York City on May 29th and author Epiphany Schwarz will be on hand to personally receive this tremendous honor.
Another recently discovered achievement was that Bubble Tubbie was in receipt of a prestigious Certificate of Merit from the Printing Industries of America's Annual awards in the Hard Cover Trade Books, Journals, and Other Books (Printed by Regal Printing Limited). While this award was for the 2012 entry of the original Hard Cover version of Bubble Tubbie, the Bath Book version of the same book will be entered in the running for a Certificate in the 2013 awards competition.
Bubble Tubbie in all formats will be proudly presented at the Annual BEA show in New York taking place at the Jacob K. Javits Convention Center, where Author Epiphany Schwarz will be presenting the Hard Cover version, the Bath Book version and the interactive book app for iPad, (recently updated to version 1.1) together with all the fun and amazing Light Bubble Balls for the Bath Book, complete packaging for large retail chains, as well as the individual packaging for the light balls. All of this will be presented at the Independent Book Publishers Association Stand, Booth 2346 at BEA 2013.
Epiphany Schwarz, aka Christine Mangnall-Schwarz has set out to create a true brand, and she is succeeding. With her first book, Bubble Tubbie, she has already pushed the envelope in creating a full, three part experience. With great art and design as a core philosophy, while adding the whimsy and wonder of entertaining small children, Christine is determined to grow the brand of Epiphany Schwarz into a multi-product/multi-market/lifestyle powerhouse.
Epiphany Schwarz LLC, funded privately by Christine L. Schwarz and her husband Gil Lempert-Schwarz, started Black Catapult Publishing (BCP) to produce the book Bubble Tubbie in its three distinct formats. This was done to maintain creative and quality control over the products and to begin building the Epiphany Schwarz LLC brand in the strongest possible way. BCP has plans to continue publishing the next runs of Bubble Tubbie along with the other upcoming books by Epiphany Schwarz
Along with the potential for product development, Epiphany Schwarz LLC is open and willing to consider licensing and development options for animated children are programming with major television networks and/or film companies. The book translated into animated entertainment is a perfect fit, and is something totally new in this genre.
There are several more books in the pipeline, including Bubble Tubbie 2: Back in the Bath, Stars Are Bright (a gentle bedtime story), After/Before (about change and growth), Bliss & Run (about helping others), and Safe/Sound/Love/Light (about overcoming fear).
Christine worked directly with Bawtree Software in Canada for the development of the book app for iPad. She wrote all of the actions, movements and sound effects, sourced all of the effects and completed a new layered design with her Graphic Designer Brain Swanson to submit to the developers. She directed her two daughters while recording the narration on the app, and they were wonderful adding their own sound effects.
Currently, a simplified Mandarin translation is being completed in Hong Kong. We look forward to opening up the global market for Bubble Tubbie and the other upcoming books of Epiphany Schwarz.
At this stage, BCP/Epiphany Schwarz LLC is seeking a strong publishing partner to further the efforts of outreach and distribution channels within the United States as well as International markets. While partnership is a goal, it is important to Christine that she can continue to produce book with the same creative freedom as she produced the first.
About Epiphany Schwarz
Epiphany Schwarz (AKA Christine Mangnall-Schwarz), is an artist, a poet and most importantly, a Mama. The bubble adventures in the book "Bubble Tubbie" are inspired by her two lovely and imaginative daughters, Isabelle and Zoe. Epiphany Schwarz has important works of art displayed in the Lou Ruvo Center for Brain Health, designed by Frank Gehry in Las Vegas, Guy Savoy Restaurant in Las Vegas and in several important private art collections.
About Bubble Tubbie, Published by Black Catapult Publishing
For the first time ever, the publishing trifecta of simultaneously launching a physical coffee table style book for children, a water-proof bathtub version of the same book, replete with lights and bath accessories and also a completely interactive iPad App that is already in full release version available on the iTunes store has been achieved. This independent Publisher continues to set new standards for Independent Publishing with the receipt of a Certificate of Merit from Printing Industries of America in the Hard Cover Trade Books, Journals, and Other Books (Printed by Regal Printing Limited).
About the Independent Publisher Book Awards:
The "IPPY" Awards, launched in 1996, are designed to bring increased recognition to the deserving but often unsung titles published by independent authors and publishers. Since the inaugural contest over 4,500 books have received IPPY Awards, and all the recognition, credibility, and increased sales that a book award can bring. Independent spirit and expertise comes from publishers of all sizes and budgets, and books are judged with that in mind. The Awards are owned and operated by Jenkins Group; a publishing services company founded 1988 and located in Traverse City, Michigan.
http://www.independentpublisher.com/article.php?page=1653&urltitle=2013%20Independent%20Publisher%20Book%20Awards%20Results
Website: http://www.bubbletubbie.com
Facebook: https://www.facebook.com/BubbleTubbie?ref=hl
Twitter: https://twitter.com/BubbleTubbie
Christine Mangnall-Schwarz
Epiphany Schwarz
Epiphany Schwarz LLC
2560 Anthem Village Drive
Henderson, NV 89052
702-808-8862