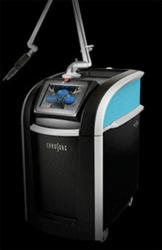 Pasadena, CA (PRWEB) May 29, 2013
Plastic surgeon Michael Schwartz recently announced that he has added PicoSure tattoo removal to the list of services available at his practice serving Pasadena and the greater Los Angeles area. This makes Dr. Schwartz the first practitioner in the San Gabriel Valley to offer this advanced technology.
The PicoSure system uses a picosecond laser to target tattoo ink of any color, including various shades of blue and green, which have traditionally been difficult to remove using other methods. The treatment is also effective at removing traces of tattoos left behind after other tattoo removal procedures.
Most lasers used in tattoo removal deliver bursts of heat to the pigmented skin, which disrupts the ink particles and causes them to fade. In most cases, however, traces of the tattoo - especially green and blue ink - remain visible, sometimes conspicuously so. With the PicoSure laser, PressureWave™ technology creates a photomechanical impact that causes the ink to shatter into miniscule particles. These particles are then eliminated by the body.
Benefits of PicoSure Tattoo Removal
One of the chief benefits of tattoo removal with the PicoSure laser is its efficiency. Rather than the 10 to 20 treatment sessions required by other laser platforms, the PicoSure laser can eliminate most tattoo ink in three to six treatment sessions.
"The PicoSure laser is simply the fastest and safest technology for removing tattoos that there is," stated Dr. Schwartz. "Many people come to us with 'tattoo regret' and just want to have their tattoos removed, while others want to wipe the canvas clean for new tattoos. Either way, PicoSure does an amazing job."
PicoSure tattoo removal is performed by Dr. Schwartz and his staff of registered nurses at his Pasadena office, serving all of Los Angeles.
About Dr. Michael Schwartz
Pasadena cosmetic surgeon Michael Schwartzis known throughout Los Angeles as one of the region's premier facial plastic surgeons. He performs a full range of plastic surgery procedures for the face, neck, eyelids, nose, and ears, in addition to body contouring procedures such as liposuction and breast enhancement. He was one of the first plastic surgeons in the Los Angeles area to incorporate laser technology into body contouring with his use of the SmartLipo™ laser.
Dr. Schwartz participates in many hours of continuing education each year in order to stay abreast of the latest developments in plastic surgery techniques and technology. He is a member of the American Academy of Facial Plastic and Reconstructive Surgery, the American Academy of Otolaryngology-Head and Neck Surgery, and the American Academy of Cosmetic Surgery. He is certified by the American Board of Facial Plastic and Reconstructive Surgery and the American Board of Otolaryngology and a diplomate of the American Board of Cosmetic Surgery.
Further information about Dr. Schwartz and his integration of PicoSure tattoo removal into his Pasadena practice can be found at his website, or by contacting him at:
Michael S. Schwartz, MD
960 E Green St
Ste 101
Pasadena, CA 91106
Phone: (626) 793-5134
Toll-free: (888) 847-4995
Originally posted by Dr. Michael Schwartz