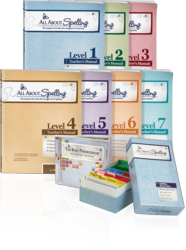 Is spelling really harder than reading?
Eagle River, WI (PRWEB) May 30, 2013
All About Learning Press has created an online demonstration to show why spelling is harder than reading. Parents and teachers often assume that if a child is able to read a word, he will automatically be able to spell it. This is an incorrect assumption—and here's why.
When surveyed, most people misspelled the words somersault, mayonnaise, and silhouette, despite being able to read the words without difficulty. Curriculum developer Marie Rippel, author of the award-winning All About Spelling program, explains why spelling is harder than reading:

To read, the student must recognize words; to spell, the student must reproduce words. It's more difficult to produce the spelling of a word than it is to recognize a word.
There are more possible spellings for most words than there are possible ways to read them. In English, we have 26 letters, but we have 45 sounds and more than 250 ways to spell these sounds.
Students spend much less time spelling than they do reading, and less practice time equals more difficulty. Since sounds can be spelled in many different ways, students need ample practice, along with dependable spelling rules and patterns. Lack of practice—combined with the added complexity inherent in spelling—adds up to many struggling spellers.
Teaching spelling in an explicit multisensory manner is one of the research-based strategies employed by the All About Spelling program. This program is based on the Orton-Gillingham approach and consists of seven levels that are designed to take the struggle out of spelling. The multisensory lessons are mastery-based and students use letter tiles, flash cards, dictation, and word banks to learn through sight, sound, and touch. The program is published by All About Learning Press, Inc., and comes with lifetime support and a 100 percent money-back guarantee. The "open and go" lesson plans are lightly scripted and require just 15 to 20 minutes per day.
For more information on All About Spelling, visit http://www.AllAboutSpelling.com/.