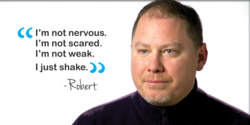 In my experience, the IETF has filled a very big void left from the lack of information available in most doctors' offices.
Lenexa, KS (PRWEB) May 29, 2013
The International Essential Tremor Foundation (IETF) announced today that it has been honored with a prestigious 2013 Top-Rated Award by GreatNonprofits, the leading provider of user reviews about nonprofit organizations.
"We are excited to be named a Top-Rated 2013 Nonprofit," says Catherine Rice, IETF executive director. "The IETF is a voice for those with essential tremor (ET). We are proud of our accomplishments this year, including another successful National ET Awareness Month, the funding of more basic research into the cause of ET, and the recent release of a new video centering on the emotional and psychosocial aspects of ET."
The Top-Rated Nonprofit award was based on the large number of positive reviews that the IETF received—reviews written by volunteers, donors and clients. People posted about their personal experiences with the nonprofit. For example, one person wrote, "When I was diagnosed with essential tremor my neurologist sent me home with a bottle of pills and very little information. In my experience, the IETF has filled a very big void left from the lack of information available in most doctors' offices."
While the Top-Rated Awards run through the end of October, the IETF was part of the inaugural group to qualify for the year.
"Savvy donors want to see the impact of their donations more than ever," says Perla Ni, CEO of GreatNonprofits. "People with direct experience with the International Essential Tremor Foundation have voted that the organization is making a real difference."
Being on the Top-Rated list gives donors and volunteers more confidence that this is a credible organization. The reviews by volunteers, clients and other donors show the on-the-ground results of this nonprofit. This award is a form of recognition by the community.
About the IETF:
Headquartered in Lenexa, KS, and founded in 1988, the International Essential Tremor Foundation is the leading organization in the world dedicated to those affected by essential tremor. The mission of the IETF is to fund research that will find the cause of essential tremor and lead to better treatments and a cure, increase awareness about ET, and provide educational materials, tools and support to healthcare providers, the public, and those directly affected by ET.
The IETF has distributed more than $600,000 in research grants, funding 24 promising studies, in the search for the cause of ET. The Foundation hosts numerous community awareness events across the U.S. to provide those affected with the basic knowledge necessary to become their own advocate when seeking treatment. And, the IETF also provides assistance to a vast network of support groups around the world. To learn more about essential tremor and the IETF mission, please visit the IETF website at http://www.essentialtremor.org.
About GreatNonprofits:
GreatNonprofits is the leading site for donors and volunteers to find reviews and ratings of nonprofits. Reviews on the site influence 30 million donation decisions a year. http://www.greatnonprofits.org
Media Contact
Catherine Rice, Executive Director
info(at)essentialtremor(dot)org
888.387.3667
913.341.3880