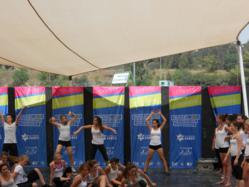 Irvine, CA (PRWEB) May 30, 2013
This year, the Merage Jewish Community Center's Maccabi Team OC will join together with the teens from Kfar Yona in Israel. Kfar Yona is the Merage JCC's sister Community Center in Israel. To show the bond between the two communities, the teens from both communities will compete as one on Team OC / Kfar Yona in the 2013 JCC Maccabi Games/ArtsFest® in Orange County California. The JCC Maccabi Games/ArtsFest will be held August 4 through 9 and will be the largest Jewish teen event in the world with over 2500 teens participating.
Twenty-four teens and five adults will come from Kfar Yona to be part of Team OC / Kfar Yona: 5 dancers; 7 basketball players; and 12 singers (the Kfar Yona singing troupe). The singers will perform at the Orange County JCC Maccabi Games/ArtsFest® Opening and Closing ceremonies. All the Kfar Yona teens will be hosted by local Jewish families with teens. In addition to participating during the week of JCC Maccabi, the Kfar Yona group will go to Disneyland, the beach, an Angels' game and join the 450 teens from Team OC for a pre-weekend Shabbat program at the JCC.
According to Dan Bernstein, president and CEO of the Merage JCC, "One of the ways the Merage JCC has been building on the principle of Israel as the eternal birthright of the Jewish people is with our personal connection to our sister community center in Israel, Kfar Yona. In December 2008, we organized a staff trip to Israel so that those of us who work at the JCC would be able to connect to Israel on a real and personal level. As part of that transformative experience, our staff met with the staff of the Kfar Yona community Center for peer to peer interaction. Since that initial visit, the Merage JCC and the Kfar Yona community center have continued our connections and exchanged visits several times."
In March 2011, Dudy Lifschitz the CEO of the Kfar Yona Community Center visited the Merage JCC meeting with the Board of Directors and the department heads. Dan Bernstein explained, "We had the opportunity to show him around our center and our city including a meeting with our city's Mayor Beth Krom (a Merage JCC member)."
In August of 2011, thirty-eight Orange County JCC Maccabi athletes and artists and 4 of their chaperones traveled to Israel and were hosted for Shabbat by members of the Kfar Yona Jewish community. Aliza Sable, the Orange County delegation head remembers, "When we arrived Friday afternoon we were all greeted by our host families and taken back to their homes. In the evening, our delegation and the Israeli teens and their families gathered in the local park for Shabbat services led by Dudy Lifschitz and accompanied by Mattan Klein, a jazz musician (who will be an Artist in Residence for this summer's JCC Maccabi ArtsFest in Orange County). After dinner with their host families, all the teens gathered at the Kfar Yona JCC's youth center to socialize and get to know one another. Our teens spent Shabbat with their host families exploring Netanya and the beach. At night, they all got together again at the Youth Center for a musical performance by the Kfar Yona teens and a karaoke party."
Dan Bernstein commented that, "Our teens formed special friendships with their host families and friends that continue until today. In fact, many of them say that meeting Israeli teens who were their age was one of the highlights of their Maccabi experience in Israel. We aim to continue our relationship and also build personal relationships between OC Jewish teens and Kfar Yona. We plan for these relationships to be fostered post Maccabi and hope to take a group of Jewish teens from OC to Kfar Yona in the future."