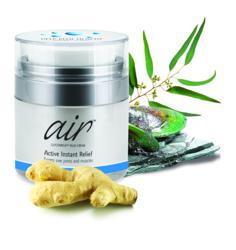 Clinically proven to reduce joint pain by 49%
Beverly Hills, CA (PRWEB) May 30, 2013
DBH USA LLC http://www.airdbh.com launches two all- natural products, a cream and supplement, that contain GlycOmega®-PLUS an innovative formula that contains Green-lipped mussel from New Zealand that has been clinically proven to reduce joint pain by 49%. The products called AIR for Active Instant Relief represent an all-natural alternative for those suffering from arthritis and sore joints and muscles. GlycOmega®-PLUS is high quality Green-lipped Mussel extract which is prepared using an advanced extraction technique and world-class freeze-drying method. Our products combine the bioactive Green-lipped Mussel powder with a botanical antioxidant that provides the consumer with a potent joint formula that relieves pain and reduces inflammation.
AIR-Active Instant Relief is made in New Zealand from the finest ingredients sourced from the purest place on the planet. The active ingredients include; Green-lipped Mussel Extract [GlycOmega™-PLUS], Omega 3 Oil, Menthol, Jojoba Oil, Shea Butter, Ginger Oil, Tea Tree Oil, Capsicum Oil, and Eucalyptus Oil.
Cartilage cushions the joints and allows our bones to move freely, which provides freedom of movement that so many of us take for granted. Due to ageing, injury and even normal wear and tear, our joint cartilage can become thin and brittle which can then create joint discomfort and impact the quality of our life. AIR-Active Instant Relief will help to relieve pain and sore joints and improve the quality of life.
Neal Gray, VP of DBH USA LLC says, "This species of mussel is found only in New Zealand and possesses a profile of Omega-3 essential fatty acids which are unique to its species and has been proven to promote joint health. The Green Lipped Mussel provides an excellent source of protein, vitamins, minerals and extremely valuable Omega-3 fatty acids. Our products are recommended for sufferers of arthritis, active people, athletes,and maintaining healthy joints and mobility."
If you would like more information about this product, or schedule an interview please call Neal Gray at 310-471-1575 or email at neal(at)airdbh(dot)com.