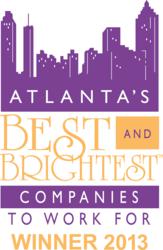 I've never been in a place where I've seen ideas take root and become process so quickly. Wayne E., Accounts Receivable Specialist
Atlanta, GA (PRWEB) May 30, 2013
OxBlue, a leader in the construction webcam industry, was named one of the 101 Best and Brightest™ Companies to Work For in the Atlanta area for the second year in a row. Best and Brightest recognition goes to organizations whose practices enhance working conditions for their employees.
"We're honored to receive this prestigious award again," said Chandler McCormack, President of OxBlue. "It's great to be recognized for being on the right track in rewarding our team for their achievements and making sure they have all the tools they need to do their jobs effectively."
Recognition as one of the 101 Best and Brightest Companies to Work For is based on a review of human resources practices at the organization, and employee feedback about their thoughts and opinions of working at the business.
When OxBlue employees discuss their company, the theme that predominates is empowerment.
"Everyone's input is valued," said Marsha R, a national sales consultant for OxBlue, "and each individual has the opportunity to improve how we do things."
"I've never been in a place where I've seen ideas take root and become process so quickly," said Wayne E., Accounts Receivable Specialist.
OxBlue plans to continue building on its award-winning policies and strategic direction.
"In order to take care of our customers, we need to take care of our people," said McCormack.
About OxBlue
OxBlue is a leading construction camera service provider, with hardware, connectivity and expertise across 6 continents and all 50 states. OxBlue's time-lapse cameras connect people on and off site, by improving communication through high-resolution images and time-lapse movies.