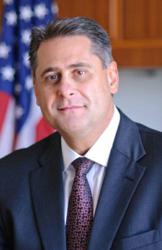 When you combine (Gus') competencies with his deep technological experience, there is no question Gus will play a significant role in our service delivery as a BPO."
- Chad Benson,
President and COO.
Cedar Falls, Iowa (PRWEB) May 29, 2013
CBE Companies (CBE), a business process outsourcing (BPO) company, announced the addition of C. Gus Doulaveris to its leadership team as Chief Information Officer (CIO).
Doulaveris comes to CBE with over 15 years experience leading multi-million dollar technology programs in both private and public sectors. His background includes both IT and engineering leadership roles, along with program management. He most recently worked for General Dynamics, formally Vangent, Inc., for the last five years as Vice President, Engineering. Doulaveris holds a Master of Science degree from Johns Hopkins University in both Management Information Systems and Telecommunication Systems.
"I am extremely excited to join an organization of CBE's caliber. From my very first interactions with company leaders, I knew this was a place where people really matter. I appreciate the level of commitment to do the right thing, be an innovative thought leader and deliver value for our customers. Capitalizing on this commitment, I will utilize the latest technologies to springboard the organization to the next level in the BPO marketplace," said Doulaveris. "The company's Core Values are in line with my background allowing for an environment where I can lead by example and help our employees reach their maximum potential by truly fostering deep technical expertise within the organization," he continued.
CBE Companies' President and COO, Chad Benson, said, "Information technology is an ever-evolving discipline for all organizations in today's competitive and changing global marketplace. Gus comes to us with a wealth of knowledge in the areas of strategic planning, enterprise computing, telecommunications and delivery of software solutions across multiple platforms and industries. What impressed me most with Gus is his proven track record for building diverse, high-performing teams, passion for developing people and problem solving skills. When you combine those competencies with his deep technology experience, there is no question Gus will play a significant role in our service delivery as a BPO," Benson continued.
About CBE Companies
CBE Companies was formed in 2013 in an effort to expand in the marketplace and emerge as a BPO organization.
Through its subsidiaries, CBE Companies has 80 years of experience and currently employs nearly 1,000 people in four locations worldwide. Its corporate headquarters is located in Cedar Falls, Iowa, with additional facilities in Waterloo, Iowa, Overland Park, Kansas and Manila, Philippines.
CBE Companies serves many of the nation's most renowned and respected organizations. Several dedicated subsidiaries, including CBE Group, CBE Customer Solutions and Argent Account Acquisitions, offer solutions for customer care, retention and acquisition, accounts receivable management, asset acquisition and other front- and back-office solutions. CBE Companies represents a variety of industries including financial services, communications, healthcare, utilities, education and government.
The mission of CBE Companies is to make its customers better through a:

Focus on the deepest understanding of its customers' business
Innovative solutions that provide clear value in solving specific business challenges
Unique culture and investment in employee engagement
For more information, visit http://www.cbecompanies.com.