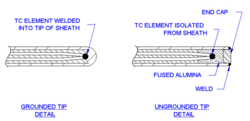 RTDology training helps clear up the confusion around Thermocouples types and styles -- grounded or ungrounded? E/J/K/T/N? So you can make the best choice for your application.
Minnetonka, MN (PRWEB) May 29, 2013
Thermocouple-based temperature measurements serve an important role in processes where the environment involves high vibration and/or other harsh operating conditions. Although they offer a wide operating temperature range, they are ideally suited for environments with temperatures above 700°F.
Burns Engineering will present the complimentary session, Thermocouples, on Wednesday, June 12th, 2013 at 12:00 PM CST. This session addresses the basics of the technology, different types and capabilities, selection for various applications, as well as how to identify the thermocouple types and styles for replacement.
Thermocouples: June 12, 2013. Noon CST.
Visit RTDology for more information.
R•T•D•ol•o•gy®; [ahr-tee-dee-ol-uh-jee] -noun
The study of temperature measurement. The practice of expertise in the area of resistance temperature detectors and their application.
About Burns Engineering:
Since 1960, Burns Engineering has been an industry leader in the design and manufacture of temperature measurement products for the Process, OEM and Metrology industries. Burns designs custom temperature measurement solutions to meet safety, process efficiency and product quality needs. Products include RTDs, Secondary SPRTs, Thermocouples, Thermowells, Transmitters and NVLAP Accredited Calibrations (Lab Code 200706). Learn more about Burns Engineering at http://www.burnsengineering.com or contact via phone at 800-328-3871.