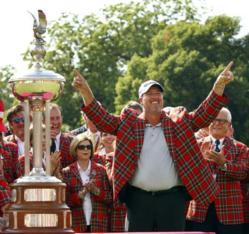 IonLoop's Army Camo bracelet made a colorful statement at the Crowne Plaza Invitational this weekend.
Carrollton, TX (PRWEB) May 28, 2013
He is an avid sportsman…hunting & fishing rank just below his family and his golf game so it is only fitting that this year's Colonial champion wins just down the road in Ft. Worth wearing an IonLoop Camo magnet + negative ion bracelet. In fact it was an Army Camo magnet bracelet which is only appropriate for Memorial Day weekend.
After five long winless years this victory marks the third #1 for this likable golfer; previous wins had been at Harbour Town, in 2007 & 2008 where, like Colonial the champion is presented a plaid jacket. Asked if he could tell the difference between the two plaids the winner said "I couldn't tell you, it's been so long." This winner joins a long list of athletes who wear and believe in the Ionloop magnet + negative ion technology.
The victory moves him to No. 55 in the world ranking, making him eligible for the U.S. Men's Open Championship where he and all the other players and wives will be presented a limited edition IonLoop sports bracelet when they check-in at Merion Golf Club in Ardmore, PA in June.
IonLoop has developed a sport bracelet with two technologies: magnets + negative ions. The company's new negative ion technology, Ion Regeneration Technology™, is believed to neutralize the destructive effects of our modern day environment. Everyone from world-class athletes to office workers may be affected by positive ions. Activities ranging from competing under the energy-draining UV rays of the sun, to sitting in front of computer monitors daily, expose us to fatigue producing positive ions…we may all equally benefit from this new pioneering technology. These IonLoop sport bracelets also contain small but powerful magnets that are aligned in the magnet case in an alternating polarity ± alignment which enhances the natural effects of the magnet therapy.
For more information on IonLoop's new technology and to view all the other creative IonLoop bracelets please visit http://www.ionloop.com