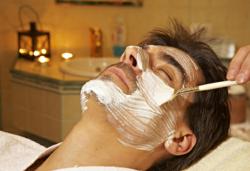 Scottsdale, AZ (PRWEB) May 28, 2013
Spa services are not just for women. A growing number of men are seeking the relaxing benefits of spa services, making them the perfect gift this Father's Day.
According to SpaFinder Wellness, more spas are adding "beauty" menus for men. These include such services as male waxing, threading and cosmetic procedures.
"Men in a competitive work market feel there is an advantage to looking well and feeling young," said Susie Ellis, president of Spa Finder. "It's not simply vanity."
Here are four tips for successfully marketing your spa this Father's Day:
1. Offer special discounts.
Identify services geared toward male clientele. In addition to the examples above, other services could include haircuts, wet shaves, facials, and manicures and pedicures.
One service growing in popularity among men are massages. According to the American Massage Therapy Association, 17 percent of surveyed men had a massage in the last 12 months compared to only 12 percent of women.
2. Conduct an online campaign.
Promote discounts on your Web site, social media pages, email newsletters and direct client emails. Messaging through all available channels will help generate sales from both current and new clients.
"Marketing your Father's Day specials online is the most effective way of reaching a large audience," said Bob La Loggia, CEO of Appointment-Plus spa booking software. "Besides catching the attention of prospective clients, fans of your social media sites will receive instant notification."
Spas that utilize scheduling software can add a "Book Now" button to their Facebook pages and email newsletters. This allows for easy client self-booking and instant sales.
3. Advertise in your spa lobby.
One of the best marketing resources are your clients. Inform them of your Father's Day specials on your spa menus, event boards or banners in your lobby.
Advise your front-desk staff of the specials and instruct them to share details as clients check in.
4. Inform the media.
Newspapers, magazines and community Web sites often post specials offered by local businesses for free. Identify who to contact and provide that individual with details on the discount. Be sure to include contact information and instructions on how to purchase your services.
Learn how Appointment-Plus room scheduling software can help grow your spa business. Visit http://www.appointment-plus.com. Call 800-988-0061.
#
About Appointment-Plus: Over 16 million people trust Appointment-Plus online scheduling software for their booking needs. It's the leading scheduler for spas with client self-scheduling, reminder notifications that reduce no-shows by 70 percent, and online gift certificates. The software integrates with Facebook and Twitter.