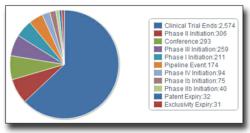 Norwood, MA (PRWEB) May 29, 2013
BioPharm Insight's monthly Catalyst Monitor analyzes the most material events in the sector during the upcoming month. The Catalyst Monitor tracks significant events and announcements such as US Food and Drug Administration (FDA) approvals, Advisory Committee meetings and expected key clinical results.
AcelRx Pharmaceuticals' Phase III ARX-01 (sufentanil NanoTab PCA system) program for acute postoperative pain will likely have positive results based on the drug's well-known potency and previous positive data, according to four pain physicians. Two of them, though, added market uptake will be stalled by hospital preference for less-expensive standard of care. ARX-01 is a preprogrammed, noninvasive, handheld system that allows postoperative patients to self-dose with sublingual sufentanil NanoTabs to manage their pain.
On 5 April 2013, AstraZeneca and Rigel Pharmaceuticals announced that the 923-patient, Phase III OSKIRA-1 trial reached statistical significance with its ACR20 primary endpoint but failed to meet its second primary outcome of radiographic modified total Sharp score. The initial Phase III results indicate a diminished benefit-to-risk ratio. It is believed that while the drug still has a chance at approval with further data, it will face market challenges.
On track for approval but also in line to face market challenges is Daiichi Sankyo's stroke prevention drug Lixiana (edoxaban). Lixiana is not viewed as differentiated enough from approved drugs such as Boehringer Ingelheim's Pradaxa (dabigatran), Bayer/Johnson & Johnson's Xarelto (rivaroxaban) and Bristol-Myers Squibb /Pfizer's Eliquis (apixaban). Although edoxaban is likely to achieve its primary endpoint of noninferiority to warfarin in its Phase III ENGAGE-AF SPAF trial, the once-daily dosing regimen is not seen as a major advantage.
Other catalysts in June include:

PDUFA decision for GSK's dabrafenib in melanoma expected
Celgene's Revlimid may win FDA approval in MCL; long-term uptake will likely be low
Aegerion's EU Juxtapid approval for hoFH is debatable
Raptor's RP103 has favorable EU approval chances in cystinosis; pricing and reimbursement may be issues
Sanofi's Aubagio is expected to get EU approval for first-line MS; attractive price does not translate to market uptake
Sunesis is likely to expand the VALOR trial sample size at interim analysis for vosaroxin in AML
The Medicines Company has a shot at regulatory success with oritavancin in skin infections after prior miss
Learn how BioPharm Insight can help you find new business opportunities by starting a free trial today.
About BioPharm Insight
BioPharm Insight is the definitive guide to the global biopharma community. BioPharm Insight provides subscribers with an information edge by combining the most comprehensive real-time database of companies, drugs, contacts, M&A and licensing deals, forecasts and clinical trial data with proprietary forward-looking intelligence uncovered by an independent team of investigative journalists months or even years before it breaks in mainstream media. To learn more, visit http://www.biopharminsight.com. Follow BioPharm Insight on LinkedIn and Twitter.
About Infinata, Inc.
Infinata provides personalized technology solutions to turn information into insight. Services include a comprehensive BioPharm Solutions Suite, unique Wealth Prospecting tools and innovative Custom Data Services. Infinata is a part of Mergermarket, a Financial Times Group company and a division of Pearson plc. To learn more, visit http://www.infinata.com.