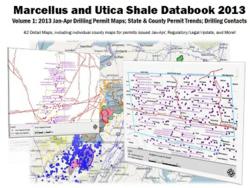 New York, NY (PRWEB) May 30, 2013
The 2013 Marcellus & Utica Databook, Volume 1, has been released today, announced Edward Camp, co-publisher of the Databook and Developer of ShaleNavigator Mapping Systems. "The first volume of the Databook offers a complete summary of 2013 Q1 shale gas development in the Marcellus & Utica plays, which covers Pennsylvania, Ohio,and West Virginia," says Camp. "The mapping and trend analysis shown in the Databook for the first quarter of 2013 show some shifts in permitting and lease offers that will be very useful to Databook purchasers, be they in the Supply Chain, investors, or landowners."
Whats inside the 2013 Databook Volume 1:
62 updated county and state maps display where wells are being drilled across the three state Marcellus & Utica Shale plays. These maps show which companies are doing the drilling, and the major pipeline and gas compressor infrastructure that are critical to bringing gas to market. Additional maps show lease offers and wet gas / dry gas areas. Together, these maps give readers an overview of the rapidly changing shale gas landscape. Databook 2013 Volume 1 also provides a natural gas commodity price & rig count analysis, a well permit by county trend analysis and forecast, a state-by-state legislative update section, and handy directory of active drillers in the Marcellus & Utica plays.
Who benefits from the Databook Series?
Businesses in the shale gas development supply chain use the Databook to see patterns of development to make strategic decisions regarding the "who's, what's and when's" of shale gas development. Landowners and real estate professionals use the Databook to see if there's permitting and drilling in their areas of interest, and if so, who is being issued permits and who is doing the drilling. Attorneys, Investors, and Wealth Managers use the Databook to evaluate permitting, lease offers, and pipeline infrastructure that show opportunity and risk affecting their client's wealth and well-being.
Buy Direct Special Offer
You can purchase Databook 2013 Volume 1 and receive upcoming 2013 Volumes 2&3 at half price by visiting http://marcellusdrilling.com/databook/
About the Marcellus & Utica Databook Publication
The annual, three-volume publication is produced by ShaleNavigator and Marcellus Drilling News. Co-Authors are Edward Camp and Jim Willis.
About ShaleNavigator
ShaleNavigator is a web-based mapping solution that displays information specific to the leasing and development of shale plays in the United States, with particular focus on Marcellus and Utica development activity. Other U.S. Shale plays are available as well within the interface. ShaleNavigator's Available Property listing service allows landowners to display their properties within the context of the development map, and ShaleNavigator's unique Newsboard locates and maps news, data, and deals on a daily basis. ShaleNavigator is a product of Select Analytics, LLC, a New York-based geospatial consulting firm that has served government, real estate development, environmental, and energy industries for over 15 years. Subscriptions to ShaleNavigator are available, and there is a free, 7 day trial account that can be activated by visiting ShaleNavigator on the web.
About Marcellus Drilling News
Marcellus Drilling News is an online news service dedicated to bringing news and resources to landowners and businesses in the Marcellus and Utica Shale (Appalachian) region of the United States. MDN scours the news daily, identifying and analyzing what's happening with exploration, production, processing and delivery of Marcellus and
Utica natural gas and its derivatives. We are blessed in the Marcellus region to have an abundant supply of clean energy beneath our feet, ready to be used. MDN chronicles the journey to energy independence by tapping the Marcellus & Utica Shale.