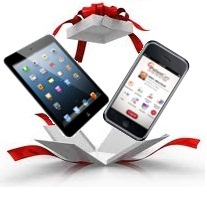 Until the Labor Day-2013, physicians and their staff, whether they are existing iPatientCare users or not, can download miEHR and miPHR at no cost and qualify to participate in a Grand Lucky Draw on September 3, 2013, to win iPads and iPhones!
Boston, MA (PRWEB) May 29, 2013
iPatientCare, Inc., a pioneer in mHealth and cloud-based ambulatory EHR and integrated Practice Management solutions announced the successful completion of its pilot implementation of mHealth products, miEHR and miPHR("mi" pronounced as "my").
iPatientCare has emerged as one of the visionaries of the US healthcare IT products and solutions market place. Mobile MedData on a Palm Pilot in 1997 was its first breakthrough clinical product that won the hearts of thousands of physicians, clinicians, and medical students. iPatientCare arrived with flying colors when General Alexander Haig identified Mobile MedData for Combat Casualty Care – US Army's First Responder as one of the most innovative products in World Business Review. iPatientCare has come full circle to releasing innovative solutions for mHealth with its launch of iOS product suite that is at the center stage of its product strategy for Meaningful Stage 2 requirements, particularly Care Coordination and Patient Engagement.
"It is so user friendly and is a great additional tool to use. We can sign labs, review the schedule and obtain a patient phone number with a few simple moves. We have started to offer the app to our patients and have given out hundreds of logins to our patients who cannot wait to start using these easy-to-use apps that keep them in touch with our providers," said excited and happy Susan Fili, RN and Officer Manager at Yuil Medical Center who were among the first practices to participate in the pilot.
"I have been using iPatientCare app on my iPhone for some time now and found it very easy to use. I am able to review my lab results, send appointment request and more importantly, I can request refills to be delivered at the local pharmacy even while I am travelling, I don't even need to call doctor's office for that!" said a delighted patient of Yuil Medical Center.
Pranav Patel, Sr. Marketing Manager at iPatientCare, elaborated on iPatientCare's aggressive plans for the ambulatory market, "mHealth is an integral part of iPatientCare's product strategy. All through the summer, that is, until the Labor Day-2013, physicians and their office staff, whether they are existing iPatientCare customers/users or not, can download miEHR and miPHR to try them out at no cost and report their experience on the Web based User orum. This would qualify them to participate in a Grand Lucky Draw on September 3, 2013, immediately after the Labor Day-2013 weekend giving away prizes, iPads and iPhones."
He further added, "After the Grand Lucky Draw for iPad/iPhone apps, iPatientCare Inc. plans to expand its mobile application suite to include more and more innovative apps on iOS and also make them available on other mobile platforms such as Android, Windows 8."
About iPatientCare
iPatientCare, Inc. is a privately held medical informatics company based at Woodbridge, New Jersey. The company is known for its pioneering contribution to mHealth and Cloud based unified product suite that includes Electronic Health/Medical Record and integrated Practice Management/Billing System, Patient Portal/PHR, Health Information Exchange (HIE), and mobile point-of-care solutions that serve the ambulatory, acute/sub acute, emergency and home health market segments. iPatientCare EHR was among the first to be certified by CCHIT in July 2006 and is currently CCHIT 2011 fully certified and ONC-ATCB 2011/2012 Certified Complete EHR for Meaningful Use. The company has won numerous awards for its EHR technology and is recognized as an innovator in the field, being a pioneer to offer an EHR technology on a handheld device, an innovative First Responder technology to the US Army for its Theatre Medical Information System, the first to offer a Cloud based EHR product. iPatientCare is recognized as one of the best EHR and Integrated PM System for small and medium sized physicians' offices; has been awarded most number of industry Awards; and has been recognized as a preferred/MU partner by numerous Regional Extension Centers (REC), hospitals/health systems, and academies. Visit http://www.iPatientCare.com for more information.