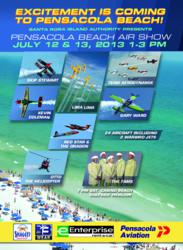 We hope next year the United States Navy's flight demonstration squadron, The Blue Angels, will be able to return for our air show, as they will surely be missed this year. - Buck Lee
Pensacola Beach, FL (PRWEB) May 28, 2013
The Santa Rosa Island Authority (SRIA) has announced the lineup for one of the most exciting weekends this summer has to offer, the Pensacola Beach Air Show, July 12 & 13, 2013.
"We have twenty-four air craft that will be flying from 1:00 p.m. until 3:30 p.m. both days," stated Buck Lee, SRIA Executive Director. "Normally a civilian act of this magnitude would cost up to $25.00 per person, but ours is free to the public. We hope next year the United States Navy's flight demonstration squadron, The Blue Angels, will be able to return for our air show, as they will surely be missed this year."
Featuring some of the best aviation performers in the country, the Pensacola Beach Air Show includes Kevin Coleman, who at only 21 years old is one of the youngest air show celebrities in the world, and Gary Ward, who is the first pilot to begin flying the MX2 in air shows, which is the absolute latest in unlimited aerobatic aircraft. Skip Stewart is an Aerobatic Champion who has won several Gold medals in regional competitions and has been awarded two Pitts Trophies. Lima Lima is new to this years' air show. One of the world's original six aircraft civilian formation aerobatic teams, Lima Lima stresses precision formation flying from the six ship wedge and double arrowhead to the basic figure four and diamond formations. Also new to the Pensacola Beach Air Show is Red Star &The Dragon . With 800 mph head-on merges between Red Star, a Viper-29, and The Dragon, a BAC-167 Strikemaster, these two war birds demonstrate what they were built to do.
Otto the Helicopter is the only helicopter to perform in the Pensacola Beach Air Show. Known for blowing bubbles, playing with his yo-yo and shooting smoke in all directions, Otto is a true crowd favorite, especially the younger fans. Team Aerodynamix, the world's largest air show team, provides an exciting and memorable performance that combines precision formation flying and formation acrobatics.
The Santa Rosa Island Authority is also hosting a free concert featuring The TAMS following the air show on Saturday, July 13 at 7:00 p.m. at Casino Beach Gulfside Pavilion. Known for such 60s hits as "Be Young, Be Foolish, Be Happy," "What Kind of Fool," "I've Been Hurt" and "Untie Me," The Tams have had two Gold Records and one Platinum Single. One of Jimmy Buffett's favorite bands, The TAMS toured with Buffett during his 1999 "Beach House on the Moon" Tour and they recorded "Flesh and Bone" together.