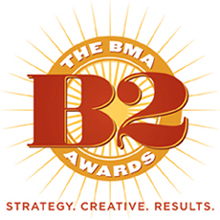 Minneapolis, MN (PRWEB) May 29, 2013
Local business-to-business marketing agency Tartan Marketing took home three "Awards of Excellence" from the Business Marketing Association (BMA)'s 2013 international B2 Awards competition. The B2 awards recognize innovative strategic and results-oriented creative work executed across a wide variety of platforms.
Tartan received awards in the Integrated Communications Program category for client Cargill Specialty Canola, in the Website category for BurgerCravings.com, and in the Dimensional Direct Mailer category for a Cargill Corn Milling product launch.

The integrated program for Cargill Specialty Canola promoted hybrid canola seed to Canadian growers through multiple tactics, including sales collateral, print and online advertising, and an interactive customer presentation tool.
The BurgerCravings.com website supports foodservice operators as a go-to resource for "all things burger," offering trend articles, new burger ideas and mouthwatering burger imagery.
The dimensional direct mailer for Cargill Corn Milling was used to secure client meetings with high-profile target accounts. It was part of an integrated product launch program for a proprietary, new sweetener.
Tartan's three B2 awards were among a total of 13 given to Minnesota-based companies and agencies.
Tartan Marketing is a full-service B2B marketing agency that combines smart, intuitive strategies with fresh, compelling creative to help clients energize their brands and stimulate growth. For more information, contact Tartan Marketing at 877-321-7575, info(at)tartanmarketing(dot)com or visit http://www.tartanmarketing.com.