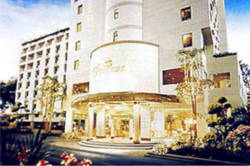 Minneapolis, MN (PRWEB) May 29, 2013
The Acesse Asia Fire Up Tour 2013 is moving along smoothly as it finished up its third conference in Bangkok, Thailand. The conference was held in the stunning Palazzo Bangkok in the evening of May 28, 2013.
A good crowd turned out to hear impressive speeches provided by Bob Kinsella, President of Acesse, and Annie Zhang, Acesse Top Leader. Founder Steve Renner, CFO Amy Ayd, CTO James Wong, and Corporate Council Peter Wold gave special video messages to the audience.
Acesse is proud to introduce its state-of-the-art Internet Products and Services to attendees of each conference. Acesse's new Mobile Services and Business Services have been of the most important Products and Services discussed at the conferences.
Acesse provides the average person an opportunity to earn an above average income working in the Internet industry. There are no other Internet companies that offer this type of opportunity.
The remaining events on the Tour are free and open to the public. The Acesse Asia Fire Up Tour 2013 is a way to educate and motivate new businesses by offering a stable, long-term business opportunity. Many new members have signed up as Acesse Internet Marketing Consultants as a result of the Tour.
The Acesse Asia Fire Up Tour 2013 will travel on to Malaysia, Philippines, and finally to Singapore. Acesse Leaders are enthusiastic about the Tour and have been attending business conferences to spread the great opportunity Acesse has to offer. "We are looking forward to seeing all of our members in person at the upcoming conferences. " said Steve Renner, Founder of Acesse.
Acesse Marketing is the Sales and Marketing division of the Acesse Corporation, registered under the laws of the state of Nevada, USA.