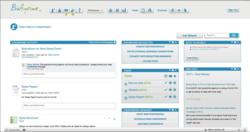 Businesses are losing valuable information and wasting time every day by not enabling collaboration between coworkers and even clients.
Tucson, AZ (PRWEB) May 29, 2013
Leading online collaboration and sharing solutions provider BizAnytime recently released new integration features that turn popular social media sites LinkedIn and Twitter into powerful collaboration tools for businesses and entrepreneurs. By integrating the cutting-edge features of the BizAnytime suite of collaborative services with the ease of use and instant connections available through Twitter and LinkedIn, the company hopes to provide its users with the most comprehensive and useful tools for project management in the cloud computing environment. To learn more about the new integrations and the company's full range of online collaborative tools for business and personal use, visit the company's website at http://www.bizanytime.com.
The new integration features will allow users to invite collaborators into shared online workspaces from their LinkedIn accounts, making it easier and faster to establish cooperative relationships with others within the business and entrepreneurial communities. "Businesses are losing valuable information and wasting time every day by not enabling collaboration between coworkers and even clients," said Leif Hatwig, CEO of BizAnytime. "LinkedIn has changed the way business professionals keep track of and connect with colleagues and clients, and our integration with LinkedIn will help businesses promote productive internal and external conversations, better serve their clients and ultimately build stronger relationships all around."
BizAnytime's new integrations are designed to provide added functionality to clients' existing social media sites:

BizAnytime now supports LinkedIn sign-in credentials to provide added convenience for end users.
LinkedIn users can create BizAnytime connections with colleagues, vendors and other members of the business community through shared workspaces that make project management easier and allow collaboration on a wide range of ongoing activities.
Customized Twitter feeds can provide added convenience for BizAnytime clients and can allow ongoing monitoring of conversations within the Twitterverse.
The BizAnytime Twitter widget collects and compiles Twitter messages regarding collaborative projects and can deliver multiple feeds directly to the shared workspace through BizAnytime's online interface.
By putting the power of social media to work on behalf of the collaborative projects of its clients, BizAnytime makes it easier than ever to manage works in progress and to encourage input from all involved parties. BizAnytime's full range of features includes chat capability, file sharing, document collaboration and tracking of changes, video conferencing, project monitoring and management and shared workspace functionality. These advanced features provide the tools businesses need to succeed in today's communication-based marketplace.
About BizAnytime:
The BizAnytime cloud-based collaboration system provides advanced tools for project management and cooperation among colleagues, clients and vendors. The company offers a range of services that include the following features:
Shared workspaces
Project and task management tools
Ongoing discussion feeds
Chat programs
File storage and sharing functions
Document and project collaboration
Video conferencing tools