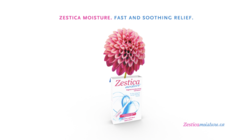 After menopause roughly 1 in 2 women have symptoms related to vaginal dryness
Toronto, Ontario (PRWEB) May 30, 2013
As the years go by, we all grow a little wiser and our older bodies aren't what they used to be; but breakthroughs in science are enabling women to be able to keep that comfort of youthful freshness in their mature, post-menopausal years. Zestica Moisture, which is now available in Canada, is a non-hormonal personal hydrogel lubricant designed uniquely for women. Zestica Moisture brings two waves of dryness relief to the vagina by utilizing Hyaluronic Acid, a naturally occurring key component of vaginal fluid which the body uses to carry water and retain moisture.
After menopause roughly 1 in 2 women have symptoms related to vaginal dryness (atrophic vaginitis), often due to estrogen depletion. This vaginal dryness can be a painful condition with possible symptoms of itching, burning, irritation and general discomfort, and the condition can affect personal intimacy and overall quality of life. Zestica Moisture resolves these issues by introducing natural moisture back into the vaginal tissue, a solution so effective that a recent user trial showed that 98% of women found symptom relief of dryness and discomfort after using the product after only one hour. After five applications many had relief lasting for days.
With such an effective remedy and vast market potential for adoption, one of the main barriers to Zestica Moisture becoming a household item found in bathroom cabinets across Canada was a lack of brand awareness. Martin Fisher, CEO of Bescot Healthcare Canada contacted Creative Bube Tube, and was impressed with the company's television expertise. He realized Bescot would have to connect with the post-menopausal market on a mass media scale, but they needed to pair it with a positioning message that would both show empathy and shed their solution in an appropriate light.
"Women over 50 consume a high share of television programming, so it's the perfect medium for the Zestica Moisture market," stated Jenny Munford, agency founder, CEO and CCO of Creative Bube Tube. "The best way to connect with them would be through a powerful and elegant visual message with suggestive undertones. Women of this demographic have a lot of life experience, and part of the unique benefit of Zestica Moisture is that it can leave them feeling empowered, youthful, and confident when it comes to their bodies. That's a feeling that's very marketable and every post-menopausal woman should have the opportunity to feel this way."
The solution to the challenge was a tour-de-force of Creative Bube Tube's ideation team. Harnessing the power of visual metaphor, the team used the symbolic image of a flower to represent femininity. Almost every woman understands this symbol regardless of their cultural background, as flowers are a symbol of beauty which are exchanged in romantic courting rituals. By simply showing a reverse time lapse of a dry, wilted flower turning into a fresh one, this would be enough to create the longing feeling of reversed aging, and youthful femininity in the target demographic for Zestica Moisture. The impactful metaphor followed by a strongly branded call to action is elegant and powerful enough to score points for Zestica Moisture with their target demographic. After all, who doesn't want to feel fresh, young and beautiful?
The Zestica Moisture commercial will initially be airing this June during CityLine on CityTV in Ontario. To learn more about Zestica Moisture visit http://www.ZesticaMoisture.ca. Bescot Healthcare also distributes Zestica Fertility, a product formulated specifically to help couples trying to get pregnant (http://www.ZesticaFertility.ca).
With representation from east to west in both the United States and Canada, Creative Bube Tube is a television and social media agency serving medium to large clients from across the globe in sports, pharmaceutical, health and lifestyle, food and beverage, automotive, and other industries. From creative ideation to results, they have produced over 400 television campaigns since opening in 2006. To learn more about the power of TV advertising and how Creative Bube Tube can help your business grow, email jenny(at)creativebubetube(dot)com or call 1-855-282-3882 today.