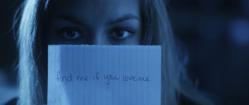 We'd like to shoot it in Texas, where we can also stretch our dollar
Los Angeles, CA (PRWEB) May 29, 2013
Ben Foster and Mark Dennis had great success on the film festival circuit with their first film, STRINGS, which can now be found on iTunes, Amazon, and Hulu. Strings collected a number of awards including Best Feature Film at the SOHO Film Festival and screened at the Austin Film Festival and the Hollywood Film Festival.
"We've been looking at four or five potential projects since our festival run with Strings and we're finally at a point where we've decided which is best to move forward with," explains Foster. Earlier this year, Dennis and Foster returned to Texas to shoot the proof of concept, which will be used to attract investors, agents, production companies, and actors to their new project, Enduro. "Enduro is about a guy trying to rescue his girlfriend from a dangerous cult, but his plan is compromised when his imaginary friend from childhood returns with an agenda of his own," says Dennis.
Enduro will be the second feature film produced under the Dennis/Foster company, Pad Thai Pictures. They have also recruited the help of a top Hollywood branding and advertising agency, Simpson-Lake-Sherman Advertising Company. Foster says, "SLS has years of industry experience and brings a ton of new creativity to some of the ideas Mark and I are working on."
"The possibility of shooting in a state with a great tax incentive program is definitely on the table," says Dennis. "But of course, we'd like to shoot it in Texas where we can also stretch our dollar. Our friends, family and pretty much all of our connections are there".