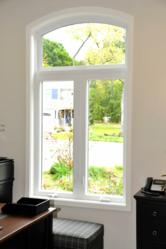 Columbus, OH (PRWEB) May 30, 2013
According to experts at Simonton Windows, whether you're preparing for severe weather with the start of Hurricane Season 2013 or just making a fast trip to the store, you can help protect your home by investing in impact-resistant laminate glass packages in your windows. Engineered to deter intruders, these energy-efficient windows resist high winds and flying debris during severe storms and reduce unwanted outside noise from coming into your home.
"This glass package is designed to make a home a safe haven," says Ken Kubus, coastal products manager for Simonton Windows. "The unique laminated SafePoint glass package in our windows offers proven peace-of-mind protection against forced entry which can help keep your home safe from intruders."
Similar in design to impact-resistant glass packages found in code-driven coastal area homes, SafePoint glass offers no-effort protection for the home, 24-hours a day, seven days a week.
"The investment in this glass package pays off in so many ways," says Kubus. "In addition to helping protect the home, this laminated glass package provides excellent energy efficiency and serves as an effective barrier against heat transfer.
"This glass can actually play a significant role in helping lower heating and cooling costs for the home throughout the year while keeping the interior comfortable. And, this glass screens out much of the sun's harmful ultraviolet rays that can damage carpets, furnishings and artwork."
Windows Help With Home Safety
In addition to requesting impact-resistant glass in windows, there are several other things homeowners can do to enhance the security and safety of their families in their homes.
"Children should be taught at a young age to stay away from windows for their own safety," says Gary Pember, vice president of marketing for Simonton Windows. "Parents can help safeguard children in the home by keeping furniture (including cribs) and anything else a child can climb on, away from windows. And, if your home has Double Hung windows, open only the top part of the window that children cannot reach, to allow for ventilation."
Pember offers these tips for window safety in the home which are especially appropriate during National Safety Month in June:
Tip #1 - Remember the primary purpose of a window screen is to keep insects outside. Never push on screens, as they will not support the weight of a child or family pet.
Tip #2 - Lock windows when not in use to protect against intruders and make it more difficult for curious young children to open windows.
Tip #3 - Do not paint or nail windows shut. Every window in the home that is designed to be opened should be operational in case of an emergency.
Tip #4 - Refrain from nailing or attaching decorative lights to the interior or exterior of window frames.
Tip #5 - Plant shrubs or grass, and place "soft landscaping" like bark or mulch, directly underneath windows to help lessen the impact should someone accidently fall out of a window.
Pember also recommends that homeowners make certain that their homes have windows with clear openings that meet egress requirements in the living spaces as required by state and local building codes. "Egress windows provide emergency exits in your home during a fire," says Pember. "Make sure your home has the proper amount of egress windows in every room used as a bedroom and on any floor or basement level with habitable living space."
Families with small children should pay special attention to windows and patio doors. Start with practicing home emergency fire drills. Show them the fastest, safety route to the outside and make certain children know under what circumstances to use a window to exit a home. Since small children tend to "hide" from fire, make sure they understand how important it is to safely and quickly exit the home should a fire occur.
"If a door is hot to the touch or not safe to exit through during a fire, then both children and adults should exit through an open window," says Pember. "During family safety drills, show children how to operate windows and how to use chain escape ladders that should be kept in all bedrooms located above ground level. Also establish a designated meeting place for the family outside the home."
Simonton Windows produces ENERGY STAR® qualified replacement and new construction windows and doors, including a line of impact-resistant products. Simonton has been ranked "Highest in Customer Satisfaction with Windows and Doors, Three Years in a Row" by J.D. Power and Associates.
Simonton was also ranked #1 in quality in the 2013, 2009, 2007, 2002 and 1998 Brand Use Studies sponsored by Builder magazine and has won three Best In Class Awards administered by LBM Journal Research Institute.
Founded in 1946, Simonton's hallmark has been to deliver the industry's shortest, most dependable lead-times. Part of Fortune Brands Home & Security (NYSE: FBHS), Simonton delivers award-recognized products to key markets throughout the 48 continental United States and North America. Simonton is a Founding Sponsor of The Weather Museum, a Lifetime Founding Sponsor of the Lead Safe America Foundation, and a supporter of Homes for Our Troops. For information, call (800) SIMONTON (1-800-746-6686) or visit http://www.simonton.com.
Simonton Windows received the highest numerical score among window and door manufacturers in the proprietary J.D. Power and Associates 2010-2012 Windows and Patio Doors Satisfaction StudiesSM. 2012 study based on responses from 2,519 consumers measuring 11 brands and measures opinions of consumers who purchased new windows or patio doors in the previous 12 months. Proprietary study results are based on experiences and perceptions of consumers surveyed in January – February 2012. Your experiences may vary. Visit jdpower.com.
ENERGY STAR is a government program that helps consumers protect the environment through superior energy efficiency and is a registered trademark of the U.S. Department of Energy and the U.S. Environmental Protection Agency.