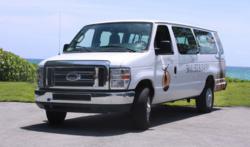 We try to do all that we can to make our residents' lives as normal as possible as quickly as possible following their treatment program.
Delray Beach, FL (PRWEB) May 28, 2013
Halfway There of South Florida is happy to announce its latest purchase: new vans to be used for transporting its Delray Beach residents as needed to doctors appointments, grocery stores or errands, and of course, twelve step meetings to support them in their recovery efforts. This is a service provided that no other sober living facility in the area offers and is a huge benefit to residents who may find it difficult to get around to meetings or appointments without their own personal form of transportation.
Halfway There of South Florida is known for offering a sober living program that is second to none. Their program is rooted in sustained recovery efforts, doing all they can to help their residents focus on staying sober for good. Helping their residents with a mode of transportation is just one of many benefits offered at Halfway There. Other benefits include Career Coaching to help residents to re-enter the workforce after treatment, getting the best employment possible by teaching interview skills and helping with resume writing and more.
Carrie of Halfway There of South Florida says of the newly purchased vans for resident transportation, "We try to do all that we can to make our residents' lives as normal as possible as quickly as possible following their treatment program. It is imperative to sustaining recovery that they start to get into a routine of normalcy and learning to live without using. We saw a need that we filled in that many of our residents were having a difficult time getting to day to day appointments, running errands as simple as going to the grocery store and even making it to essential twelve step meetings. It is our ultimate goal to get people back on their feet."
For over a decade, Halfway There of South Florida has been providing a residential sober living environment which has proven highly-conducive to sustained recovery. Its high success rate is rooted in a strong recovery ethic on the part of every staff member, a family-oriented setting, and comprehensive program resources. For more information about sober living programs at Halfway There of South Florida call 561-573-7430 or visit http://halfwaythereflorida.com