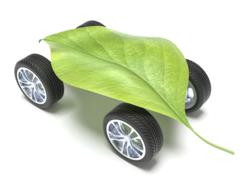 Green transportation is vital to the Southern Green Living Expo event in Asheville, NC.
Asheville, NC (PRWEB) May 28, 2013
The Southern Green Living Expo will offer test drives of eco-friendly vehicles during the October 4-6, 2013 event at the U.S. Cellular Center in Asheville, NC. Test drives will include electric vehicles, hybrids and bio-diesel transportation choices. With car manufacturers pushing green standards and fuel economy, public awareness and the need for environmentally friendly transportation is dramatically increasing.
Plug-in electric vehicles (PEVs), such as the Nissan LEAF and the Chevy Volt, have been on sale in the Asheville region since the fall of 2011. Based on projections made by the Electric Power Research Institute, there may be over 8,000 plug-in electric vehicles on the road in the Asheville region by 2020. "As battery prices come down and gasoline prices continue to rise we can expect PEVs to become an attractive option for more and more car buyers every year," says Bill Eaker, who leads the Land-of-Sky Clean Vehicles Coalition.
Recent Ford EcoBoost campaigns rally for consumers to take the EcoBoost challenge, what Ford sees as an affordable and versatile engine alternative that will provide enhanced fuel efficiency. Top manufacturers offering a a fuel efficient vehicle include: BMW, Volkswagon, Hyundai, Ford, Nissan, Toyota, Honda, Lincoln, Mercedes, Lexus, Kia, Infiniti, Porsche and Tesla. Engines are being designed to deliver power and torque while saving on greenhouse emissions. Today there are over 30 hybrid vehicles on the market, compared to 3 in 2004.
The Southern Green Living Expo, is dedicated to educating the public about easy and workable solutions for sustainability. "Green transportation is vital to this event," Mandy Berger, marketing director of the expo. This expo will provide three days worth of classroom style education on a variety of topics that support community development and regional economic growth, including transportation. The Asheville region has over 40 charging stations, 12 of which are solar powered and were installed by local Asheville start-up, BrightField Transportation Solutions. Nissan and Eaton Corporation have plans to install additional charging stations in this region.
Consumers are encouraged to attend to test-drive eco-friendly vehicles, experience the green dining food court, and attend a live presentation or workshop. The expo is currently accepting a limited number of applications to showcase eco-friendly transportation. Dealerships and manufacturers are encouraged to apply to exhibit transportation or sponsor the test-drive event. For more information contact Mandy Berger at 828.255.2526 or mandy(at)southerngreenlivingexpo(dot)com.
About the Southern Green Living Expo:
The largest green living expo in the Southern Region of the U.S. A. Seeking to turn values into action to achieve the highest quality natural environment, healthier living, and regional economic growth. The expo will be held in one of America's Greenest Cities, Asheville, NC October 4-6, 2013 at the US Cellular Center.
Show Info: http://www.southerngreenlivingexpo.com
Media Contact/Accreditation:
Mandy Berger / mandy(at)southerngreenlivingexpo(dot)com / 828.255.2526