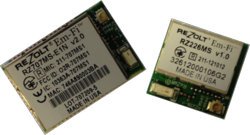 "We added Wi-Fi capability to our Blood Pressure Monitor and Weight scale within months using Em-Fi Software with RZ707," said Sukhwant Khanuja, CEO of Carematix, Inc. "In addition, ReZolt provided timely support to assist in the integration process."
Sunnyvale, CA (PRWEB) May 30, 2013
ReZolt Corporation, a provider of OEM solutions enabling wireless connectivity for Internet of Things, today launched two new Em-Fi modules: RZ707 and RZ226. Along with scalable, modular and customizable Em-Fi Software, based on the Broadcom® WICED™ platform, these modules enable a rapid and low-cost addition of Wi-Fi to an OEM embedded device. Broadcom's Wireless Internet Connectivity for Embedded Devices (WICED) platform (pronounced "wik-id") eases development effort and simplifies the implementation of Wi-Fi connectivity in an array of consumer devices, especially those with no current networking support.
The "Internet of Things" continues to grow, with more devices containing embedded connectivity, enabling new capabilities and applications for consumers. With tens of billions devices now connected to the Internet, there is a significant market opportunity for OEMs developing appliances, medical devices and sensors for energy monitoring, industrial/building automation and logistics. Wi-Fi is the technology of choice with its maturity, ubiquity, reliability and robustness.
Rezolt's RZ707 and RZ226 modules include an on-module chip antenna and u.FL connector for an external antenna, offering OEMs access to several options for adding Wi-Fi connectivity to their devices. Both also include regulatory certification for USA, Canada, Europe and Japan.
RZ707 is a complete embedded Wi-Fi solution, including Broadcom's BCM43362 Wi-Fi solution with the ST Micro STM32F205 microcontroller. Broadcom's BCM43362 is a fully-integrated 802.11b/g/n-compliant WLAN chip that adds instant Wi-Fi connectivity to simple electronic devices, even those powered by basic microcontrollers. Customers can continue to run their application on a separate processor using RZ707 for Wi-Fi connectivity using Serial-to-WiFi application from ReZolt. Alternatively, customers can port their application code on the RZ707 using the RZ707 software development kit.
RZ226 is a Wi-Fi only module including the Broadcom BCM43362 Wi-Fi device. For an embedded device using an RTOS, customers can use Rezolt's RZ226 with the Em-Fi software and their application running on "customer-selected" processor on their board. For an embedded device running a standard OS such as Linux or Windows, customers can use RZ226 after integrating the appropriate driver for the BCM43362. In both cases, compared to SIP (System-In-a-Package) solutions, RZ226 offers customers a lower cost-of-ownership and simpler hardware design by offloading complex RF circuitry from the customer board.
"We added Wi-Fi capability to our Blood Pressure Monitor and Weight scale within months using Em-Fi Software with RZ707," said Sukhwant Khanuja, CEO of Carematix, Inc. "In addition, ReZolt provided timely support to assist in the integration process." Carematix has introduced Wi-Fi blood-pressure monitor and Wi-Fi weight scale using the RZ707 module.
"ReZolt stands apart with our focus on software and customer support that results in substantial reductions in customer development cost and time" said Vijay Parmar, President and CEO of ReZolt Corporation. "At ReZolt, every customer engagement starts with establishing a deep understanding of end product requirements. We use consultative approach to recommend the best solution from a systems perspective with significant focus on software. Our customers view ReZolt as much more than a typical hardware module company."
Em-Fi Software, based on Broadcom's WICED(TM) platform, is highly modular, easy-to-use and feature-rich including embedded and networking functions. These features are packed in a small memory footprint leaving a significant amount of memory and processor bandwidth for the customer applications.
Availability
RZ707 and RZ226 Em-Fi modules are in production now and in use by several ReZolt customers.
About ReZolt
ReZolt technology enables low power, multi-protocol, multi-sensor wireless connectivity for Internet of Things. Focusing on OEMs, our solutions enable rapid and cost-effective product development and deployment of "smart" devices in energy monitoring and management, healthcare, logistics, and industrial/building automation applications.
ReZolt Em-Fi(TM) embedded Wi-Fi solution based on Broadcom WICED(TM) Platform includes Em-Fi hardware modules and Em-Fi Software that allow rapid and low-cost addition of Wi-Fi to Internet of Things. ReZolt MultiComms(TM) Software enables development of gateways that include multiple communication interfaces. ReZolt couples Em-Fi and MultiComms with engineering services to complement OEM resources. ReZolt is based in Sunnyvale, California.
For more information, please visit http://www.ReZolt.com.
Media Contact:
+1 408-647-3399
info(at)ReZolt(dot)com