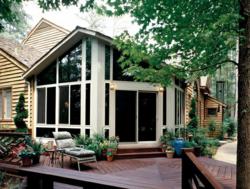 The dozens of homeowners associations in Coral Springs might be daunting to some builders, but not to Venetian.
Miami, FL (PRWEB) May 30, 2013
Venetian Builders, Inc., Miami, has made a retail sales display in the Coral Springs Home Depot part of its new marketing effort for custom-designed aluminum sunroom additions, patio covers, patio screens and pool enclosures in the Broward County planned community.
"The retail display for Coral Springs sunrooms, screen enclosures and patio covers in the local Home Depot and displays in 40 other stores have brought consumers new awareness of our services and products," said Chris Noe, Venetian president. Residential sales have grown 150 percent in 2013, Noe said, with Broward County continuing as the heart of the firm's residential business.
"Coral Springs has grown exponentially since the covered bridge was built to promote the city in its infancy," Noe said. "The city is a model for planned growth. As custom designers, we respect that dynamic and understand the importance of meeting not just municipal permitting standards, but the rules of homeowners associations, too."
Venetian has experts who deal efficiently with regulations on all levels, Noe said. "The dozens of homeowners associations in Coral Springs might be daunting to some builders, but not to Venetian," Noe said. "We know how to comply with the rules, including the tough Florida Building Code. We don't just build to meet the code; we exceed it."
Venetian serves all neighborhoods in Coral Springs, including Addison Court, Beechwood Heights, Breezewood, Brookside, Butler Farms, Chevy Chase, Coral Creek, Coral Springs Lakes, Crossings, Deer Run Springs, Cypress Glen, The Dell, Diaflor Estates, Forest Glen, Forest Hills, Glenwood, Greenwood and Grenadier Estates.
It also serves The Hills, Kensington, Maplewood, Running Brook Hills, North Springs, Parkside, Pine Glen, Pine Springs, Royal Palm Court, The Springs, Springs Hamlet, Westchester, Windham, The Windings, Woodside and all other Coral Springs neighborhoods.
"We can get homeowners into an aluminum sun room addition much faster than they might expect and with the quality they demand," Noe said. "Aluminum framing, because of its technology and its classification under the code, saves homeowners time and money." By custom designing every project, Venetian creates a structure that fits the home, the neighborhood, the homeowner's lifestyle and the customer's budget, Noe said.
"Custom design makes a project work, whether it's big or small, posh or basic," Noe said. "Our craftsmen have the skill to make a 4 season room or patio enclosure blend architecturally with the home, both inside and out.
"We're experienced at building to the most demanding regulations for high-wind areas such as along lakes, ponds, canals, parks and golf courses. And our swimming pool enclosures get extra strength from heavier-gauge framing that looks like standard-strength framing, but is better able to withstand high winds. So many Coral Spring families have yet to learn that they get the most out of their pools when they protect themselves from unwanted bugs with affordable pool domes."
The company's pergolas and lattice provide a wood look but with the longevity and low maintenance of aluminum. Its giant skylights are part of an integrated roof system so sturdy that the skylights are code compliant.
The company installs solariums, patio rooms and pool enclosures in West Palm Beach, Fort Lauderdale, Miami, the Keys and all communities in between.
For more information call 866-596-2427.