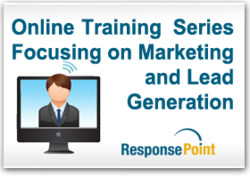 Marketing training is essential to staying relevant in today's competitive business environments
Raleigh, NC (PRWEB) May 29, 2013
ResponsePoint (http://www.ResponsePoint.com), a Raleigh, North Carolina based marketing agency specializing in Business-to-Business (B2B) lead generation solutions has announced the schedule for their summer on-line marketing training. This marketing training series consists of six free webinars starting in June and ending in August. The dates and titles of these webinar are:

June 5, 2013: Building a Successful Channel Marketing Strategy
June 13, 2013: The Essential Foundation for Lead Generation
July 17, 2013: Understanding the Advantages of Marketing Automation
July 31, 2013: Implementing a Lead Nurturing Program
August 13, 2013: Syndicating Marketing Programs Across Your Channel
August 27, 2013: Data Management Strategies to Improve Your Lead Generation Activities
"Staying current with what's happening in the field of marketing is vital to getting the most from your investment," says Brian Gossett, CEO of ResponsePoint. "To help companies do that, we offer an online marketing training series that covers the core features of a successful marketing lead generation program."
For more information about ResponsePoint's marketing training series, visit their website at http://www.responsepoint.com or call 800-990-0725.
About ResponsePoint
ResponsePoint builds efficient and effective B2B lead generation solutions. Our process centered approach to lead generation improves your ability to produce better quality leads, consistently over time. This starts with developing a strategy that aligns your objectives with the right target audience and the perfect mix of marketing communications. We then use our experience to apply proven marketing processes and technologies that simplify program management, measurement and sustainability for long after our initial engagement is over. ResponsePoint's headquarters is just outside the Research Triangle Park area of North Carolina.