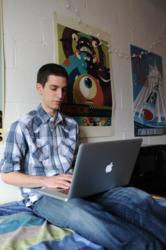 "When you go on family vacations, one of the hardest things to do is leave your pet behind with a sitter or at a kennel," said Fairfield University student Cody Reinold.
FAIRFIELD, Conn. (PRWEB) May 29, 2013
Do you ever worry about your pet when you're not home?
Cody Reinold '14, an information systems and operations management student in Fairfield University's Charles F. Dolan School of Business, created an award-winning app with that thought in mind.
Called 'LocalSitter,' the app allows people to monitor their pets on their phones when they can't be with them, and it won the category of "Best Idea" at the recent 'Tails and Rails' contest co-hosted by Purina and 'Mashable,' a popular news website and technology and social media blog.
Reinold, of Sutton, Mass., explained that LocalSitter gives you assurance that your pet is fine while you are away. "When you go on family vacations, one of the hardest things to do is leave your pet behind with a sitter or at a kennel," said Reinold, who has a golden retriever named Ben. "You end up spending a lot of your vacation wondering, 'How is Ben doing?' So this app lets you stay in touch with your pet and gives you live text updates, pictures, and videos of your pet."
LocalSitter, a web-based application (app), can run on any web-enabled device such as computers, smartphones, and tablets. The app also documents the entire time that owners are away from their pets. Other opportunities exist for this app, such as allowing doggie-day-care centers to use the app and send updates to owners throughout the day.
Reinold developed the app during the contest's nine-hour 'hackathon' at New York City's Soho Grand Hotel, which brought together computer programmers, software developers, graphic designers and others to develop new products to benefit pets. The Fairfield University undergraduate was the only individual winner of the day (the other winners were groups). For his app, he received $1,500 prize money, which he will put towards his college education.
Web design and developing a business idea are nothing new to the Fairfield junior. He designs websites and provides marketing and development solutions to clients through his firm, Elligson, a successful small business that had its origins in a web site he created when he was twelve. Reinold plans to hire employees for Elligson and work there full-time to elevate the company to the next level. "In the long run, I'd like to be a serial tech-entrepreneur, solving everyday problems and making people's lives easier using technology," he said.
Fairfield University's Chris Huntley, Ph.D., associate professor of information systems and operations management, who is one of Reinold's Dolan School professors, said the LocalSitter concept is great. "Cody was able to identify a real problem and then come up with a no-fuss solution to it in a few hours," he said. "I'm sure if I had tried to do it, I'd have done something a lot more complex and not nearly so good. It takes real talent to pare off the irrelevant things so you can focus on the important things. Cody does that."
Fairfield University is a Jesuit University, rooted in one of the world's oldest intellectual and spiritual traditions. More than 5,000 undergraduate and graduate students from 36 states, 47 foreign countries, the District of Columbia and Puerto Rico are enrolled in the University's five schools. In the spirit of rigorous and sympathetic inquiry into all dimensions of human experience, Fairfield welcomes students from diverse backgrounds to share ideas and engage in open conversations. The University is located in the heart of a region where the future takes shape, on a stunning campus on the Connecticut coast, located just an hour from Manhattan.