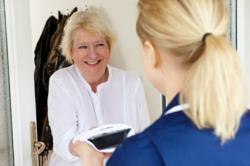 New York, NY (PRWEB) May 30, 2013
National Nursing Home Week took place May 12 - 18 this year, and helped celebrate and recognize the thousands of residents and staff that live and work in institutional care settings. However, it turns out most people prefer living and aging at home.
According to a report published by the AARP, aging in place, rather than in an assisted living community or skilled nursing community, was preferred by 78% of adults between 50 and 64. It's not difficult to understand why, either.
To stay in the house one knows, surrounded by friends and loved ones, offers comfort, safety, and certain degree of certainty — compared, at least, to the unknown and unpredictable environment of a new home or community.
However, there are a number of important considerations to evaluate when considering aging in place.
Retrofitting the Home for Aging in Place
Crucial to any aging in place plan is making appropriate changes to the home. Remodeling the home — or just reorganizing it with a few additional fixtures — will make it easier for seniors to move around in, use, and continue to enjoy their familiar environment.
Home remodeling for aging in place typically utilizes three strategies: installing features, such as grab bars, that support movement and provide security against falling; putting in lifts, elevators, and other devices that help seniors move between floors; and removing barriers to movement by opening up floor plans, reorganizing space, and taking the lips out of showers or thresholds so that residents can move freely.
Once one has made a decision to age in place, he or she will want to get an assessment from a professional. The National Association of Home Builders is certifying aging-in-place specialists who, for a fee, can come to the home and help make an evaluation. Afterwards, the homeowner will be given a list of suggestions to take to a contractor, tailored to his or her budget and needs.
In-Home Care to Support Aging in Place
Depending on the needs of the patient, in-home care services can range from medical and skilled nursing services, to homemaking and personal care services, to companion services. Typically, home health care services are ideal for seniors with relatively straightforward or defined needs.
It is important to remember that it can be difficult to monitor providers of in-home care services. Since they will likely visit the patient's house often when no one except the single patient is around, it can sometimes be challenging to ensure they are acting professionally and appropriately, let alone providing the proper level of care. Extra vigilance and attention is required.
Resources to Support Aging in Place
Often overlooked, it is important to evaluate what community resources are available to support aging in place.
When it becomes too difficult to shop for and prepare food, a meal delivery service can bring warm, healthy meals directly to the door. They don't need to be expensive, either. In some places seniors may even qualify for meals delivered for free.
Typically, densely populated urban areas will have more options. Charitable organizations like Meals on Wheels, the Salvation Army, and other religious or community groups can also provide meal delivery at low prices.
Transportation services are crucial for those who need to carry out errands, as well as for those who are vulnerable to social isolation. In a major urban area, public transportation such as buses or subways may be enough to help a senior get around. In a less densely populated area, there may be other options such as door-to-door services or a ridesharing service run by volunteers.
Risks of Aging in Place
While aging in place can be a wonderful experience for many, it is important to be aware of common hidden dangers. These are particularly relevant if an elderly person is living on his or her own. However, with careful preparation and planning, these can be overcome.
About ElderBranch
ElderBranch is an online information portal that helps people find and evaluate long-term care providers. ElderBranch's mission is to support users in making the best decision possible for themselves and their loved ones.