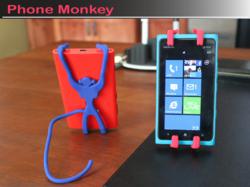 Phone Monkey, That Phunky Monkey, it hugs a phone to stand on a desk, or twist the tail to swing from a rear-view mirror or a jungle vine.
Wilsonville, Oregon (PRWEB) May 29, 2013
The Phone Monkey is the fun way to hold a Smartphone, or a Pop Tart. It requires no batteries and only asks for one banana a day.
The Phone Monkey: Universal Smartphone Holder, launched on Kickstarter.com is seeking initial production and marketing funding. Zack Stretcherz, the pitchman for BOING! Designs with a magnetic personality, makes a fun and unique pitch instead of the usual stiff plea from inventors to back their project.
Phone Monkey frees up hands and holds any Smartphone in a viewing position on any flat surface or hang it from a rear-view mirror, a door knob or even just a nail in a fence. Use the Phone Monkey as a tripod or as a stand for Skype or FaceTime.
Made from high quality silicone molded over a steel skeleton, the Phone Monkey can hold any Smartphone from the iPhone to the Samsung Galaxy Note and any phone in between. Phone Monkey supports iOS, Android, and Windows. Twist the tail and wrap it around a rear-view mirror to use the phone's GPS app or hands free calls while driving. Prop up the Phone Monkey anywhere in the home or office to increase the visibility of the phone.
Developed after a scary incident trying to use a phone in a car, the Phone Monkey is safe for all ages and holds all phones (even with a case on them).
It's hard to be serious about such a fun accessory, but it works seriously well and does all sorts of great things for you and your phone. It holds, it props, it hangs, it does it all... and even makes you smile.
For more information visit these links:
Kickstarter Project link: http://kck.st/172UEcH
Image and Video Dropbox: http://bit.ly/10FBEK9
BOING! Designs: http://www.boingdesigns.com