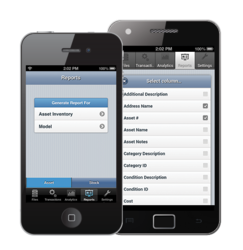 It gives BarCloud mobile app users the power to create and export reports anytime, anywhere directly from smartphones and tablets
San Jose, CA (PRWEB) May 29, 2013
Using the new reporting feature on the BarCloud mobile app gives users the ability to create and export generated reports directly from their smartphones making online inventory and asset management more efficient on the go.
The new feature gives the ability to select what data to generate in a report. BarCloud mobile app users are given the option to decide which specific columns and criteria to report on. Reports can be created to show asset numbers, locations, costs, model numbers, and serial numbers. On the stock inventory side, typical information is SKUs, descriptions, inventory levels, locations, and for advanced stock inventory tracking data such as lot numbers and expiration dates can be included. Following the completion of a report, the document can be exported as a PDF file or excel file, and sent in an email making it easier to track and distribute inventory and asset reports on the fly.
"It gives BarCloud mobile app users the power to create and export reports anytime, anywhere directly from smartphones and tablets" said Elie Touma, CEO and President at ASAP Systems.
BarCloud is an online, complete, and configurable barcode based stock inventory and asset tracking system for companies big and small in all industries. The data field naming and transaction based preferences configurable in BarCloud provide a generation leap forward in making custom software available at off-the-shelf prices. Whether inside a facility or spread across town or the country, the BarCloud mobile app allows everyone to be connected and provides the data in configurable reports for day to day business operations.
About ASAP Systems
We are ASAP Systems, a market leader in inventory management and asset tracking systems that uses barcode and RFID technology with Motorola mobile barcode scanners, smartphones and tablets. We help improve profitability by eliminating manual data entry, paper files and forms and by automating record keeping. For more information, please visit http://www.barcloud.net.