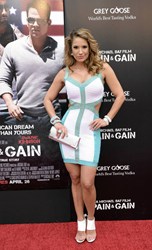 Jennifer Nicole Lee makes a special celebrity appearance to the Hamptons Aug 9-11th for Celebrity Author Night and to showcase her JNL Fusion Workout Method.
Hamptons, NY (PRWEB) May 29, 2013
Jennifer Nicole Lee's Management team confirmed that JNL will be making a special celebrity appearance to the Hamptons the weekend of August 9-11th. She is a featured celebrity author at the "Celebrity Author" Night. Other notable authors include Gwyneth Paltrow and Alec Baldwin to name a couple. Jennifer Nicole Lee will be there for this charity event, donating her bestselling books "The Mind Body and Soul Diet: Your Complete Guide to Transformational Health, Healing & Happiness" and also her #1 bestselling cook book "The Fun Fit Foodie".
Due to the urging of her fitness friends and fans, JNL will also be teaching a VIP invite only JNL Fusion Class on Saturday August 10th, at a private training facility.
Jennifer Nicole Lee's camp also confirmed that they will be hosting the world's first Fitness Model Factory in East Hampton on Sunday August 11. Produced by Jennifer Nicole Lee, these worldwide events are held to help women achieve their fitness, branding, marketing and business goals with powerful seminars, workshops, and of course her signature key note speech and presentation of what makes a memorable and unforgettable photo shoot. At the end of her Fitness Model Factory Seminar, the hand chosen women celebrate with a lifestyle themed photo shoot, specifically designed for their own business and branding needs.
In honor of her first major celebrity appearance to The Hamptons, JNL DVD's, JNL clothing and JNL by Rogiani workout gear will be available in the swag bags.
These events are sponsored by Dr. Cindy Bressler, Hamptons & NYC Veterinarian & creator of The Hamptons Cookie Collection, JNL Fusion Gym NYC Owner Jessica Botte, and Jet Set Vets.
For more info please visit http://www.DrCindyBressler.com and http://www.HamptonsCookieCollection.com
For the official Facebook for JNL Fusion Gym, please visit their facebook page for JNL Fusion Gym NYC.