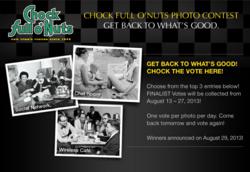 "It's about a time when a smile was on your friend's face and not an emoticon. It's about a time when your friends were real and so was your coffee."
Portsmouth, Va. (PRWEB) May 29, 2013
Today, the iconic Chock full o'Nuts® coffee brand launches an online photo contest titled, "Get Back to What's Good." The grand prize: an exciting three-night trip to New York City and the possibility for your photo to be the next Chock full o'Nuts ad.
"Getting back to what's good is a time before electronic social media made everyone so…unsocial," said Dennis Crawford, senior marketing manager. "It's about a time when a smile was on your friend's face and not an emoticon. It's about a time when your friends were real and so was your coffee."
Participants are invited to send in photos of their favorite memories complete with a written caption that fits with the current Chock full o'Nuts advertising campaign. Whether they be in "glorious black-and-white" or in "living color," candid or arranged, 50 years old or five days young, eligible photos must be original and must somehow reflect the brand's nostalgic 'get back to what's good' theme. One lucky photographer will win the grand prize: a three night trip to New York City that includes travel, two Broadway tickets, and $750 in Visa gift cards.
"We hope our Chock fans will share an old photo of good friends connecting over a great cup of coffee," added Crawford. Photos may be submitted through Chock full o'Nuts Facebook page (https://www.facebook.com/chockfullonuts) or through the mail to:
Chock full o'Nuts Photo Contest,
P.O. Box 615,
Southport, CT 06890.
Winners will be determined on the basis of originality, consistency with existing Chock full o'Nuts campaign, style and creativity. The photo may be used in the next great Chock ad. Eligibility, restrictions, limitations and exclusions apply; visit the Chock full o'Nuts Facebook page for complete contest details.
The contest begins May 28th, 2013 and entries will be accepted until August 5th, 2013. Three finalists will be announced on August 13th. The public will have the opportunity to vote for their favorite photo on Facebook between then and August 27th. The prize winners will be announced on August 29th. Open to all United States residents eighteen years of age or older. The grand prize is valued up to $4,000; two runners-up will receive $100 Visa gift cards.
About the Brand—Chock full o'Nuts
William Black opened his first nut shop on Broadway and 43rd Street in 1926, and six years later, his first coffee shop in 1932. The Great Depression caused Black to convert his chain of 18 nut shops into coffee shops which sold a good cup of coffee and a sandwich for a nickel. In 1953, Black began selling his own brand of coffee – named after his small coffee shops -- in local supermarkets; his "Chock full o'Nuts" brand coffee was an immediate success with New York grocery shoppers. The company's radio and TV jingle, "Chock full o'Nuts is that heavenly coffee, better coffee a millionaire's money can't buy" are known, loved (and hummed) by heart by generations of New Yorkers. Visit us online at: http://www.chockfullonuts.com.
About Massimo Zanetti Beverage USA
Massimo Zanetti Beverage USA is among the nation's largest coffee roasters, with nationally recognized retail brands including Chock full o'Nuts®, Hills Bros.®, Segafredo Zanetti®, MJB®, and Chase & Sanborn®. With its headquarters and state-of-the art manufacturing facility located in southeastern Virginia, the company produces proprietary and private label coffee, tea and drink mix for customers in all retail and food service channels throughout North America and around the world. In addition, Massimo Zanetti Beverage USA franchises Chock full o'Nuts® Coffee Shops and Segafredo Zanetti Espresso® Cafés. http://www.mzb-usa.com.