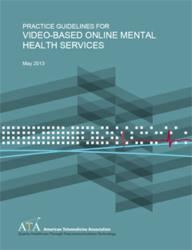 ATA's new guidelines are an important quality assurance tool for this emerging practice.
Washington, DC (PRWEB) May 28, 2013
The American Telemedicine Association (ATA) has published a new set of practice guidelines, outlining best practices for the delivery of online mental health services. "Practice Guidelines For Video-Based Online Mental Health Services" is designed to help practitioners provide safe, effective care when treating patients through personal computer webcams and mobile devices with interactive camera functionality. This guideline document, like all ATA standards documents, is available for free on the ATA website.
"The use of consumer-grade video conferencing technologies will augment the reach of mental health professionals and provide patients with a new, safe and convenient option for behavioral health treatment," said Jonathan Linkous, CEO of the American Telemedicine Association. "ATA's new guidelines are an important quality assurance tool for this emerging practice."
The guidelines are a consensus document, based on the latest clinical and empirical research and experience in the field. They were developed by a multi-disciplinary work group that included members from the American Psychiatric Association, American Counseling Association, National Association for Social Workers, active mental health providers and administrators of online mental health services, technical engineers, payers, academia, government and industry. The document is a companion to the broader "Practice Guidelines for Videoconferencing-based Telemental Health," developed and adopted by ATA in 2009, which focuses on real-time videoconferencing-based telemental health services delivered using technologies other than the Internet.
ATA's series of practice guidelines for telemedicine are the critical foundation for the deployment of telemedicine services throughout the world. They form the basis for uniform, quality patient care and safety and are all grounded in empirical research and clinical experience. The establishment of such standards also accelerates the adoption of telemedicine by payers, administrators and providers who are full partners with ATA in their development. To date, ATA has published 11 standards documents, covering an array of best practices in telemedicine. All ATA practice guidelines are available free of charge and can be downloaded on the ATA website: http://www.americantelemed.org/standards.
The American Telemedicine Association is the leading international resource and advocate promoting the use of advanced remote medical technologies. ATA and its diverse membership work to fully integrate telemedicine into healthcare systems to improve quality, equity and affordability of healthcare throughout the world. Established in 1993, ATA is headquartered in Washington, DC. For more information, please visit http://www.americantelemed.org.