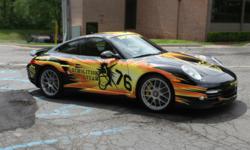 Elk Grove Village, IL (PRWEB) May 29, 2013
Rob and David Mardigian are teaming with Chicago friends and business allies, Roberto Perez and Adam Stevenson to raise funds for Wounded Warrior Project [WWP].
"We decided it would be fun to put our efforts and energy into something that we all love, a passion for cars, and enter the Bullrun Rally, allowing us the opportunity to give back to a much-needed cause at the same time", says David Mardigian.
During initial planning discussions to enter http://www.bullrun.com, the desire to support a worthy cause came up. The partners agreed that WOUNDED WARRIORS PROJECT http://www.woundedwarriorproject.org/ was a most worthy recipient. WWP runs a number of very important programs that support our troops and families of those who have been wounded in combat. The programs are designed to enable our wounded veterans to transition from the most serious and debilitating injuries to a useful and productive life.
When told of Roberto and Adam's desire to participate in the 2013 Bull Run, a six-day, 3,000 mile rally beginning in Montreal, Quebec and finishing in New Orleans, LA, their MCM partners offered to sponsor the entry. Driving Perez' 2013 Porsche Turbo S coupe, the Mardigian's contracted Competition Graphics, Farmington Hills, MI to install a complete body wrap.
WWP's logo isn't on the car, as there wasn't time enough for the Team and WWP to finalize its involvement, but WWP is on the hearts of everyone on the Team. Roberto Perez states "driving in the Bullrun was a dream for both Adam and me, but supporting WWP gives it a whole new dimension and puts purpose behind our passion to participate."
The team has enlisted several companies and individuals to support their 3,000 mile north to south run across North America by pledging $1.00-$3.00 per mile driven, however, donations of any size are welcomed. Several have responded, and at this time of writing, Team Demolition expects to raise more than $50,000. "We would like to get closer to $100,000 and will press on our friends and associates to make that a reality", Adam Stevenson says.
Rob Mardigian's desire is to express his gratitude for the sacrifice that our armed forces veterans so willingly make. "There's no way that we can repay our combat veterans, but we can work to see that they and their families have all the support they need to overcome the challenges they encounter. Our dream would be to enter two cars next year and raise even more money for such a worthy cause".
The Mardigians own MCM Management Corporation http://www.mcmmanagement.com, Bloomfield Hills, MI, in partnership with Hilco Real Estate, are the countries leading and largest industrial redevelopment and environmental remediation specialists. The formidable partnership is responsible for some of the largest redevelopment projects in the United States, including the former Bethlehem Steel plant "Sparrows Point" (Baltimore, MD) an integrated 3,500 acre steel mill.
The rally drivers for this event are Roberto Perez, Executive VP of Hilco Real Estate, http://www.hilcorealestate.com, Northbrook, IL and Adam Stevenson, President of Perfection Industrial Sales http://www.perfectionindustrial.com, Elk Grove Village, IL, a global industrial asset disposition company, who make up "Team Demolition" competing under team sponsors, MCM Management Corporation and under the watchful eye's of Team Demolition's rally director's, the Mardigians.
The BULL RUN 2013 is the 10th anniversary of the event. It begins June 1, 2013 in Montreal Quebec, and ends June 8, in New Orleans. Broadcasts of various segments of the event will be on Speed Channel, HULU, MTV 2, Channel 4 in the UK and over 80 channels globally.
The black MCM MANAGEMENT CORP. DEMOLITION TEAM #76 Porsche is wrapped in brilliant yellow, orange, and red.
For all press inquiries and information on how to join us in supporting WWP, please contact:-
Charliese Agnew - charliese(at)perfectionmachinery(dot)com