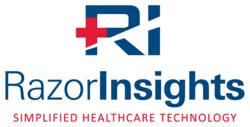 Kennesaw, Georgia (PRWEB) May 29, 2013
RazorInsights, a leading provider of healthcare information technology solutions for rural, critical access and community hospitals, will be exhibiting its ONE Enterprise EHR at the Alabama-Georgia Rural Health Clinic Conference, June 4-5 in Opelika, Alabama.
The conference is a joint effort sponsored by the Georgia Rural Health Association, the Alabama Rural Health Association, the Georgia State Office of Rural Health and the Alabama Office of Primary Care and Rural Health. Topics scheduled to be presented at the conference include billing, Medicare claims, EHR implementations and more.
"We're excited to have the opportunity to show how our ONC-ATCB certified solution is able to provide hospitals with a truly integrated, non-modular EHR residing on a single integrated database," remarked Edward Nall, co-founder and Chief Innovation Officer of RazorInsights. "We designed ONE to provide administrators and clinicians with the capability to perform a variety of HIS functions simply and efficiently. Plus, hospitals can use ONE without having to purchase a costly software license. "
Hospitals utilizing ONE simply maintain a low, all-inclusive monthly subscription and enjoy a quick implementation. The single-database platform equips hospitals and their associated clinics with a consistent "look and feel" as well as a holistic view of the patient record. The cloud-based solution is scalable, with seamless upgrades, and comes at a price point that meets the needs of rural and critical access hospitals on a tight budget.
About RazorInsights
Based in Kennesaw, Georgia (in the metro Atlanta area), RazorInsights is a new, dynamic healthcare information technology company. In keeping with the principle of Occam's Razor, the company has created a simplified HIS solution for rural and critical access hospitals - ONE (ONC-ATCB 2011/2012), a single-database cloud solution offering a simple user experience with cutting-edge clinical tools and industry-standardized data. Hospitals can expect to improve their performance and bottom line with ONE from RazorInsights. For more information, visit http://www.razorinsights.com or call 770-308-4111.