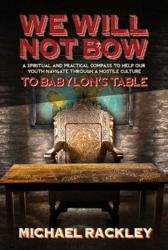 Lynchburg, VA (PRWEB) May 28, 2013
Dr. Michael Rackley, 2008 Cheyney University Football Hall of Fame inductee and 1988 free agent draft pick for the New Orleans Saints, has just released a new book with Liberty University Press. "We Will Not Bow to Babylon's Table" addresses the hard-hitting issues facing young people today, including premarital sex, homosexuality, eating disorders, bullying, and more. The book encourages teens to grow deeper in their faith by becoming more like Jesus Christ so they may combat the temptations they face every day. Through challenging discussion questions and Bible excerpts, teens are able to easily understand God's definition of biblical living and how to apply these principles to their lives.
"This book promotes healthy living for teens and provides examples of purpose driven young people," Rackley said. "Additionally, this book deals with career goals and practical aspirations that youth can attain."
Rackley serves as the president and founder of Sound the Shophar Ministries, Inc., an organization that aims to evangelize, educate, and equip youth, young adults, and the young-at-heart with the Gospel of Jesus Christ. Sound the Shophar Ministries is located in West Palm Beach, Fla.
"We Will Not Bow to Babylon's Table" is available on Amazon.com and BarnesAndNoble.com.
About the Author:
Dr. Michael Rackley, founder and president of Sound the Shophar Ministries, is a Doctor of Ministry candidate at Liberty University and an alumnus of Louisiana Baptist University, South Florida Bible College and Theological Seminary, and Cheyney University. As a veteran educator and current Bible study teacher, Rackley has a heart for reaching youth in his community. Dr. Rackley and his wife, Andrea, have two beautiful daughters, Deborah and Anna, as well as a dog named Napoleon. He enjoys watching war movies, exercising, watching football games, giving motivational speeches, and visiting family.
About Liberty University Press:
Liberty University Press remains at the forefront of helping more Christian authors than ever achieve their personal publishing goals. Visit Liberty University Press online for more news and information.
About Liberty University:
Liberty University, founded in 1971, is the largest private, non-profit university in the nation, the largest university in Virginia, and the largest Christian university in the world. More than 100,000 students attend classes on its 6,800-acre residential campus and study in its thriving online education program.