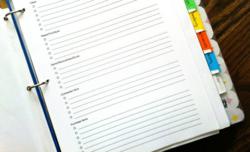 Most people underestimate how much is actually involved in planning a wedding or special event.
Delray Beach, FL (PRWEB) May 29, 2013
Fairy tales aren't created overnight, says Aviva Samuels, founder of Kiss the Planner. Samuels asserts that contemporary fairy tale weddings now require a strategy. In today's fast-paced society, hiring a planner—whether it's creating a plan for a marriage proposal or a destination wedding—is steadily on the rise among couples. From popping the question to saying, "I do," planners must offer even more services than just the traditional big day. Nearly one in three couples hire or use a wedding planner, and more than half of those brides (51%) hire them to coordinate day-of events. As options increase, so does the need for attention to detail.
With over a decade of experience in wedding and event planning, Kiss the Planner knows the importance of focus and detail. Samuels now offers an immersive consultation service, where brides and grooms-to-be can walk away with a blueprint for their wedding after brainstorming ideas, creating budget sheets and timelines, and even acquiring vendor contacts.
"Most people underestimate how much is actually involved in planning a wedding or special event," says Samuels. "It's only once you are in the thick of it, that you find you may have bitten off more than you can chew." If a couple finds themselves in that situation, it's not too late to find a local professional to get back on track. It's also wise to invest from the beginning stages, says Samuels.
Rock-pop musician Avril Lavigne, during her recent MTV news interview, said about her upcoming wedding plans: "My wedding planner, she knows what she's doing, but there's a lot that goes into it. Planning a wedding is almost like a full-time job."
Today's event planning has shifted to include men throughout the entire process. Up to 30% of men are making major decisions about nuptials, including music, catering, venue and design. Many couples who are older or more independent in today's economy no longer include the traditional "mother and daughter" planning duo. Now both men and women can harmonize their vision for their day with the help of a planner. This is not only important for local events, says Samuels, but it's crucial for destination wedding planning. "When you plan a wedding in a location other than your own," she says, "it's difficult to determine the quality and atmosphere of a venue or a catering company when you're not on-site beforehand. Planners help couples avoid mistakes that may arise from language barriers, local customs, reservations and more."
The Palm Beach wedding planner has also noticed a steady incline of men hiring event planners for proposal consultations. Whether it's local or abroad, finding fresh, romantic and creative ways to pop the question can be daunting. "But when working with a planner," Samuels says, "You have someone with whom you can brainstorm, set a strategy, and—most importantly—lessen stress so you can focus on the love of your life."
About Aviva Samuels
Florida wedding planner Aviva Samuels of Kiss the Planner is available to speak with the media about wedding planning, destination weddings, wedding design trends, and more. The Palm Beach event company offers an array of extraordinary wedding services, including destination event design, planning and coordination. For more information on Kiss the Planner or to contact Aviva Samuels, go to http://kisstheplanner.com.