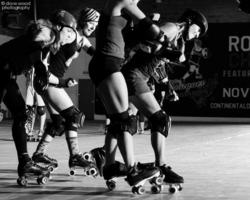 Denver, CO (PRWEB) May 29, 2013
Denver's original premiere flat-track roller derby league, Rocky Mountain Rollergirls will take on its cross-town rival, the Denver Roller Dolls, in a rare double header competition at The Fillmore Auditorium. The A and B competitive travel teams of both nationally ranked roller derby leagues will make it an evening of fierce competition.
Rocky Mountain Rollergirls' A and B travel teams, 5280 Fight Club and the Contenders, will take on the Denver Roller Dolls' travel teams, Mile High Club and Bruising Altitude. Doors open at 5:30 p.m., and the first bout begins at 6:00. Two bouts for the price of one, guests can choose to take in the early or late bout or stay for both. Kids 12 and under are free. Tickets are $24 at http://www.livenation.com, $22 at the door and $20 through individual skaters or at Derbyville, 1407 S. Broadway. VIP tickets for guaranteed seating are $25 at info(at)rockymountainrollergirls(dot)com. Group rates of $15 are available for groups of 10 or more through the league.
Hamburger Mary's Club M, located at 700 E. 17th St., will host the after party for competing teams and bout participants following every Fillmore bout. The event is free and open to the public, with DJ and dancing all night following every bout at The Fillmore Auditorium. Tips for parking around the Fillmore can be found on the league's Facebook Page.
Colorado Ride for Kids will be the charity partner for this bout. The Ride for Kids program benefits the Pediatric Brain Tumor Foundation, an organization a Rocky Mountain Rollergirls skater holds close to her heart after her son was diagnosed with choroid plexus pappiloma, a rare form of a slow growing brain tumor. A portion of ticket sales from this bout will go to support this excellent organization.
For more information on Colorado's original flat-track roller derby league, the sport, history or to buy tickets, visit http://www.rockymountainrollergirls.com. Upcoming bouts include September 7, Sugar Kill Gang versus Red Ridin' Hoods and November 2, Dooms Daisies versus United Sates Pummeling Service.
Additional exposition and theme bouts take place throughout the year at the RMRG War*House, but invitations are only available through to the league's Facebook friends and fans, http://www.facebook.com/RMrollergirls.com.
The Rocky Mountain Rollergirls is Colorado's original flat-track derby league. Founded in 2004, RMRG has four home teams – The Sugar Kill Gang, The Red Ridin' Hoods, The Dooms Daisies, and the United States Pummeling Service -- and three travel teams – 5280 Fight Club, The Contenders, and Project Mayhem. The league also supports a junior roller derby league, Rocky Mountain Rollerpunks, for skaters aged 7-17. All of the teams bout throughout the year at home at The Fillmore Auditorium and at the league's War*House, at exhibition bouts, and on the road. Doors open at 6:00 p.m., games begin at 7:00 p.m., and tickets are $17 through The Fillmore Auditorium and $20 at Derbyville, located at 1407 S. Broadway.