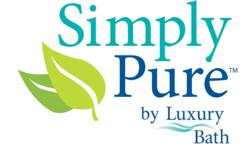 At Luxury Bath, we help our customers 'go green' with our eco-friendly bathroom remodeling products.
Glendale Heights, Illinois (PRWEB) May 29, 2013
Luxury Bath, the leader in affordable bathroom remodeling, announces an increase in first quarter 2013 sales of 12% with its unique line of eco-friendly bathroom remodeling products. While many bathroom remodeling companies send their old tubs to landfills, Luxury Bath's exclusive SimplyPureTM custom fitted tubs provide an eco-friendly bathroom remodeling option. The SimplyPure bathtub line now newly distributed in over 900 locations throughout North America is perfectly designed to fit over an existing bathtub. By repurposing the old bathtub for the new bathroom remodeling project, Luxury Bath provides an Eco-friendly green remodeling option.
In a recent study from the International Housewares Association tracking consumer spending in 2013 and beyond, states 5% more consumers have purchased "green and clean" products than they did three years ago. Luxury Bath's bathroom remodeling products provide customers with an affordable, eco-friendly option to complete their next bathroom remodel. As true to the houseware industry, bathroom remodeling utilizing eco friendly products has grown in popularity as more consumers are becoming environmentally conscious.
"More bathroom remodeling customers are coming to Luxury Bath looking for an eco-friendly remodeling choice," states Megan Jansky, Director of Marketing and Communications for Luxury Bath. "Our first quarter increased sales have shown that if by making green remodeling affordable for our customers, they choose to help out the environment."
Eco friendly bathroom remodeling doesn't have to be expensive, as proven by Luxury Bath's SimplyPure line of custom fitted bathtubs. These bathtubs are available in multiple sizes and colors for a variety of bathroom remodeling projects. By reusing the customer's old bathtub, and adhering a high quality custom fitted tubliner, most of Luxury Bath's bathroom remodeling projects are completed in one day for a fraction of the price of a traditional bath remodel.
According to the Environmental Protection Agency (EPA) in 2010, every day the average person dumps 4.3 pounds of waste into local landfills. Luxury Bath's affordable bathroom remodeling products are committed to helping reduce overflowing landfills one bathroom remodel at a time.
"At Luxury Bath we help our customers 'go green' by choosing environmentally friendly bathroom remodeling products. We've seen an incline in the number of customers wanting green remodeling for their homes," said Davis Glassberg, President of Luxury Bath. "Our green remodeling products help our customers reduce their carbon footprint with every bathroom remodel."
About Luxury Bath
Founded in 1991, Luxury Bath is dedicated to providing beautiful and affordable bathroom remodels. Supplying over 900 different bathroom remodeling companies across North America, Luxury Bath offers customers new bathroom ideas, and provides high quality bathroom products. To learn more about Luxury Bath visit, http://www.luxurybath.com.