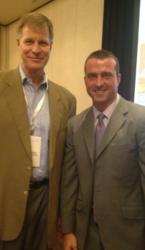 SAN ANTONIO, Texas (PRWEB) May 29, 2013
Alcohol and drug-free since August 1, 2008, Chris Herren struggled with substance abuse for much of his basketball career including his time playing with the Boston Celtics. It took Herren nearly a decade to get back on his feet and turn his life around, a message he delivered during a recent presentation for the National Association of Addiction Treatment Providers (NAATP) titled "The Game has Changed." In it, Herren chronicled his difficult and, at times, life-threatening behavior that led to a professional basketball career cut short.
"One pill turned me into a heroin addict for eight years," said Herren. "I struggled and lost everything."
With almost five years of sobriety, Chris Herren, former Boston Celtics Guard, dedicates countless hours of his time to talk to students, communities and professionals about substance abuse and how just one pill changed his life forever. He made a promise to himself that he would do everything in his power to prevent others from walking down the same destructive path.
In part, through the sponsorship of CRC Health Group, Herren has realized that promise. He has been working with CRC over the last several months to promote awareness and prevention of the disease of addiction.
"As I travel the United States speaking and sharing my story, each day I see first-hand the need for effective treatment programs," said Herren. "CRC Health Group offers a network of treatment facilities and programs nationwide, and by working together, we can make a difference in the lives of people struggling with substance abuse."
Andrew Eckert, CEO of CRC Health Group says, "Chris brings needed exposure to the issue. His story of addiction is powerful. He has already had a significant impact on communities across the country. Stories such as his combined with evidence-based, outcome-informed treatment will make a difference in helping the 25 million people who need but do not receive treatment for alcohol and drug addiction. As we look to the future, we anticipate that the Affordable Care Act will expand access to addiction treatment making our outreach efforts even more crucial."
Over 400 addiction treatment professionals attended the NAATP conference in San Antonio and gave Herren a standing ovation, applauding his honesty and his promise to himself to do everything in his power to prevent others from walking down the same dangerous path of addiction.
For more information on Chris Herren's efforts, visit the Herren Project and the Project Purple initiative.
Headquartered in Cupertino, Calif., CRC Health Group is the most comprehensive network of specialized behavioral healthcare services in the nation. CRC offers the largest array of personalized treatment options, allowing individuals, families and professionals to choose the most appropriate treatment setting for their behavioral, addiction, weight management and therapeutic education needs. CRC is committed to making its services widely and easily available, while maintaining a passion for delivering advanced treatment. Since 1995, CRC has been helping individuals and families reclaim and enrich their lives. For more information, visit http://www.crchealth.com or call (877) 637-6237.
###