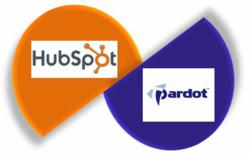 Boston, MA (PRWEB) May 29, 2013
Softwarefit, a business helping companies choose CRM, ERP and marketing automation software, introduced a new comparison white paper on HubSpot vs Pardot. Both HubSpot and Pardot are thought leaders in the inbound marketing world and marketing automation software titans.
HubSpot, founded in June 2006 by Massachusetts Institute of Technology graduates Brian Halligan and Darmesh Shah is, by far, the most pioneering of the marketing automation software solutions on the market today. Halligan and Shah are responsible for the inbound marketing revolution that has swept the industry and HubSpot continues to lead the marketing automation revolution with their incredible content and resources.
HubSpot's Marketing Automation software is designed to optimize marketing budgets by increasing site traffic, producing leads and providing analytics to guarantee investment security in future marketing campaigns. Their web-based marketing platform increases web presence, with search engine optimization and guidelines for improved search ranking. HubSpot is versatile and is suited for B2B or B2C companies of any size. Top website management tools for email and social media help create and promote fresh content.
Pardot, HubSpot's direct competitor was founded a year after HubSpot in 2007 by David Cummings and Adam Blitzer. A highly automated and intuitive marketing solution, Pardot helps businesses generate and nurture valuable leads. Pardot is the ideal marketing solution for small to midsize companies looking to streamline the efficiency of their sales and marketing teams. Perfect for newcomers to marketing automation, Pardot has dynamic email marketing tools and competitive solutions for lead generation. Pardot helps sales and marketing teams work more effectively together by integrating seamlessly with Salesforce, Microsoft Dynamic CRM, Sugar CRM, and Netsuite.
While HubSpot fans and users are fiercely loyal, Pardot boasts a 96% customer retention rate. Pardot also has minimal contract obligations, competitive pricing, complimentary setup and excellent support options.
This white paper is especially useful for small to mid-sized businesses looking to increase the effectiveness of their marketing department by investing in marketing automation. The white paper details pricing, functionality and compatability of both Pardot and HubSpot and is written for decision makers who have more important things to focus on than complicated software research. Both HubSpot and Pardot offer respected marketing automation software solutions that increase the reach and visibility of businesses. To read this white paper "HubSpot vs Pardot" click on the following link.
Softwarefit builds software comparison white papers from a neutral standpoint, seeking to highlight all the pros and cons of individual solutions on their merits with an un-biased approach. The site delivers a catalogue of comprehensive business software reviews for small, mid and enterprise sized companies. Softwarefit provides business people from around the world with a consultative, unbiased approach to the software selection process.
Softwarefit.com is packed with reviews of premier CRM software, ERP software and marketing automation software like Salesforce.com, Microsoft Dynamics CRM and Microsoft Great Plains, SAP, SugarCRM, HubSpot, Pardot, SalesFUSION, Net-Results, QuickBooks, Acumatica, SageCRM, Eloqua, SalesLogix, Oracle CRM On Demand, ACT!, and InBOX25.
To see other informative white papers that help in the software selection process you can visit the resource center of the site here. Visitors to softwarefit.com can submit amazon style star reviews with their own comments of the products listed on the site - these reviews create an open source of discussion for current and future software users.
About Softwarefit
Softwarefit is a technology consulting firm with business software specialists, analysts and engineers who have over 100 years combined experience. Specializing in the development of CRM, ERP and marketing automation, Softwarefit offers free consulting, for the leading business solutions in today's market. A history of providing real business results with CRM, ERP and marketing automation enterprises, Softwarefit is based in Boston, Massachusetts and serves companies from diverse industries.