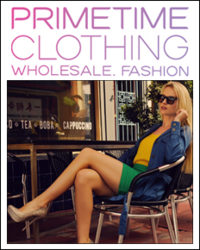 Los Angeles, CA (PRWEB) May 29, 2013
PrimeTime Clothing, a Los Angeles-based online clothing retailer, recently introduced a new summer product assortment including various styles of dresses, rompers, skirts and tops. PrimeTime Clothing offers items from hundreds of different manufacturers and importers, ensuring a unique and frequently updated inventory. Online orders are available for individual items or bundled items with free shipping on orders over $300.
The PrimeTime Clothing website is updated frequently to reflect new styles on a regular basis. In addition, items are featured in different colors and patterns along with complementary accessories. Online shopping on the PrimeTime Clothing website is an efficient way to gain access to an array of incredibly affordable and stylish items in a single location from the convenience of home.
Right now customers can receive a 15-percent discount on their first order by entering the code 'PRIMETIME' at checkout. The website boasts a section of items for under $5 as well as sales and shipping discounts for certain items and orders.
About PrimeTime Clothing - PrimeTime Clothing offers a broad selection of premium wholesale fashion apparel and accessories at the competitively discounted prices. The company distributes high-quality goods that arrive daily from hundreds of Los Angeles-area manufacturers and importers. More than 25 years of experience in the business of discounted wholesale apparel lends itself to a superior operation and outstanding customer service. Clothing is available in a range of sizes catering to juniors, plus-sizes and men, including formal wear, active wear, intimates, handbags and accessories. For more information visit http://www.primetimeclothing.com/.