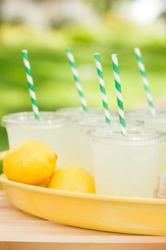 Asheville, NC (PRWEB) May 29, 2013
The Buyer's Agent of Asheville will be honoring the local Asheville tradition of Thirsty Thursday by offering delicious drink recipes through their Facebook and Pinterest pages every Thursday. A variety of recipes will be offered including non-alcoholic and drink mixers.
This week, a summer lemonade will be featured. One for the kids to sell in the front yard this summer or for a Sunday family afternoon refresher.
Thirsty Thursday started with the Asheville Tourists, with $2.00 beers at local home baseball games. The Asheville Tourists games offer excitement for the entire family. The Buyer's Agent of Asheville is committed to family and to helping families and couples find a home to fit their lifestyles and needs.
Thirsty Thursdays offer something fun to look forward to. The recipes will help you look like a seasoned bartender or host/hostess at your next get together with friends or family gathering. Enjoy! Cheers to Thirsty Thursday with The Buyer's Agent of Asheville.
The Buyer's Agent of Asheville is a local real estate firm dedicated entirely to home buyers- providing laser focus, fierce negotiating skills and detailed transaction management protecting your best interest. Located at 82 Patton Avenue, Suite 205 in Asheville, North Carolina. Contact the Buyer's Agent at 888.645.879