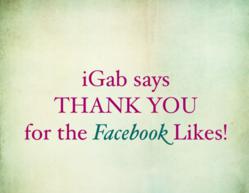 Hamburg (PRWEB) May 31, 2013
The iGab messenger app, which was launched in iTunes in March, has had an ever-growing fan base. Now iGab is giving away iGab promo codes to new fans on their Facebook page. "Since the iGab app is based on communication, we have decided to communicate our thanks to loyal users who like and share our page" Stated Kathryn Hagedorn. There are ever so many marketing tools on the market to promote apps; the iGab team knows that word-of-mouth principle is still the best form of marketing out there. iGab wants to spread the word about iGab, what better way then to share with users.They have started this with Podcast and TV interviews:
This limited –time Facebook campaign works on a simple first-come-first serve basis. The first 25 new fans to like and share the iGab Facebook page will be given a promo code for the iGab app. "We know that there is an overwhelming number of app out there, we know that once people try our app, they will have a lot of fun using it." stated co-founder Sabine Hutchison-Leidel. She added "We see Facebook as an excellent means to reach our users and encourage them to interact with us."
iGab users have shared examples of how they are using the app, "Gone are the days of standard greeting cards for birthdays and anniversaries. Never again does a text message have to be ordinary, we love hearing how creative our users are. One dentist stated he is using the shark, with his toothy smile, to send appointment reminders to patients." stated co-founder Claudia Neumann.
About GoGekko:
GoGekko, a woman-owned app deveoplment company, was established by two American and one German in 2012 in Hamburg. iGab is GoGekko's first iOS app, the app was created because GoGekko wanted a new fun way to send messages, without having to type them out . Emotion and using user own voices were both critical aspects to incorporate into the app. When sending text messages one is only able to show emotion by using smileys or other 2D images and often messages are sent with computer voices…GoGekko wanted more.