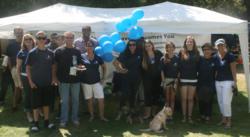 Supporting local schools, organizations and charities is every bit a part of our 'Montrose DNA' as is providing first-rate travel experiences to our clients.
Montrose, CA (PRWEB) May 30, 2013
Montrose Travel associates rallied once again to raise money for the local Foothills Relay for Life event. The American Cancer Society Relay for Life is a special event celebrating cancer survivors, remembering loved ones who lost their battle with cancer, and raising money to help fight against this disease. Over the past 13 years, Montrose Travel has supported this unique and inspiring event by building a fundraising team of dedicated associates who volunteer to help in the fight.
With tents pitched and sleeping bags rolled out on the middle of the field, the Montrose Travel team took turns walking the track at Clark Magnet High School in La Crescenta for a straight 24hours. Montrose Travel's team captain, Isabel Burcher, commented after the candle light ceremony, "The night was long, but being a part of something so moving and experiencing the support from our Montrose Travel family was something I will never forget."
Prior to the event, the Montrose Travel team raised money individually through personal sponsorships. They also organized in-office fundraising by selling snacks and sodas throughout their four buildings located on Honolulu Avenue in Montrose–a welcome convenience for associates in search of a quick break-time snack. Finally, a fundraising night at local Italian restaurant Giuseppe's was held to bring together Montrose Travel associates, their families and neighbors. To support its team, Montrose Travel funded their team registration, as well as sponsored the entire lunch for all of the participants during the walk Saturday afternoon. In the end, they exceeded their fundraising goal by more than doubling last year's contribution.
"There is so much more to Montrose Travel than just the local 'travel agency down the street.' We take pride in our community and feel a sense of duty to help support those who support us," says Joe McClure, Montrose Travel's President. "Supporting local schools, organizations and charities is every bit a part of our 'Montrose DNA' as is providing first-rate travel experiences to our clients. I'm proud of the Montrose Travel team and what we have done to help make this event a success!"
Montrose Travel provides significant financial support to local charities, schools and community organizations. Philanthropy has always been an important part of Montrose Travel's company culture, and has been a motivating factor for the company over the last 56 years in business. The sense of family and belonging instilled in their associates is something that Montrose Travel proudly shares with their community.
ABOUT MONTROSE TRAVEL
Celebrating 56 years in business, Montrose Travel, a family-owned travel management company, has grown from 14 employees in 1990 to more than 150 today and is now firmly established as a Top 50 Travel Management Company and a Top 5 Host Agency nationwide at $160+ million in sales. Montrose Travel strives to provide the highest quality services and most complete vacation, corporate travel, loyalty and group travel management solutions for its customers and home-based travel agents. Montrose Travel "will be here tomorrow to back up our promises of today!" Montrose Travel can be reached at 1-800-MONTROSE (666-8767) or by visiting http://www.montrosetravel.com. Visit Montrose Travel's Corporate Division at http://www.montrosecorporatetravel.com or call 1-800-766-4687. Home-based independent agents may visit http://www.MTravel.com, email andi(at)montrosetravel(dot)com, or call 1-800-870-5799. CST#1018299-10.